Shoprite wins big at MTN App awards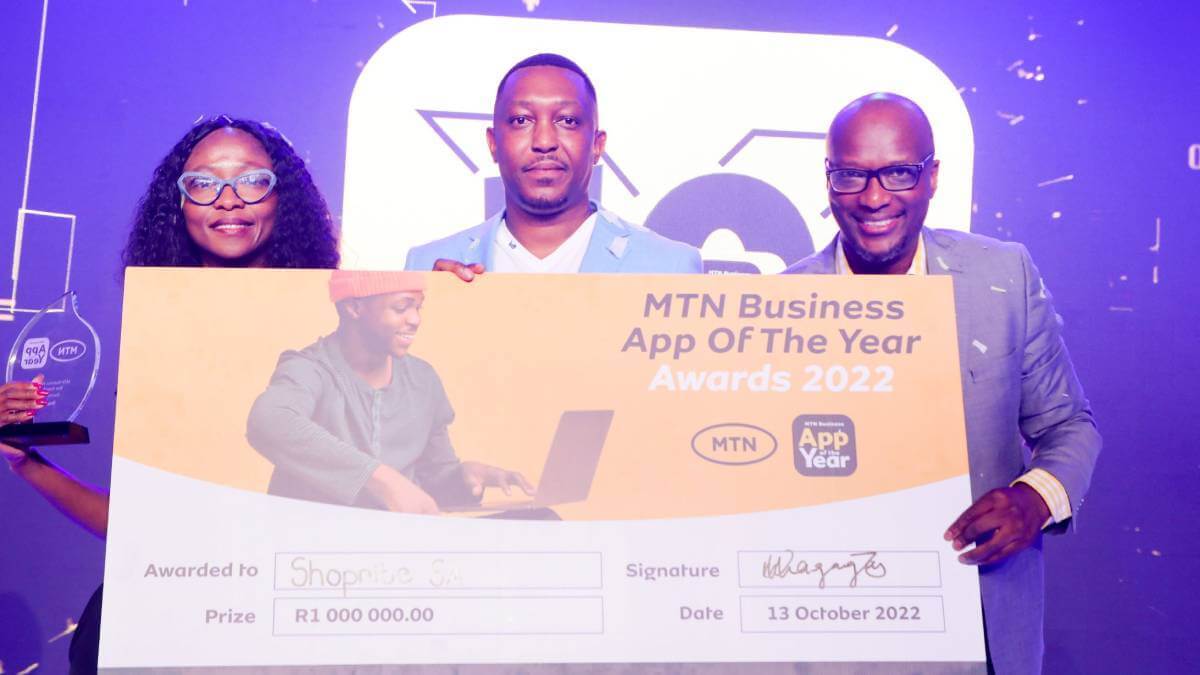 South African retailer Shoprite's Money Market app has been awarded MTN Business App of the Year and has walked away with 1 million South African rands (US$55,000).
The retailer's fintech solution was part of the 11th installment of the MTN Business App of the Year Awards, where developers had to submit their original tech solutions. Shoprite SA was also awarded the Most Innovative Solution award.
The apps and their developers battled it out across 17 categories, including Best South African Solution, Best Gaming, Best Health, Best Enterprise, Best Agriculture, Best Educational, Most Innovative and finally, the top prize, App of the Year.
MTN SA CEO Charles Molapisi said all South African households need to have at least one developer, and the country's problems can and should be solved through the upskilling of young people; a goal that should be achieved by 2030.
"We must be able to build as many developers as possible. Enough of the bad news, let us take our resources and change the fortune of this country - we have the means, one household, one developer," he said.
Some notable winners were Old Mutual's money management app, 22seven, which walked away with the Best Consumer Solution award. The first Afrikaans dating app, Koer, received the People's Choice award at the hybrid ceremony.
Other winners were:
Best Incubated Solution was awarded to LayUp Payments, a digital lay-buy solution that transforms a business's Lay-By book into one centralized digital payment platform and is sponsored by Wits' Tshimologong Precinct.
Best South African Solution went to Eyerus, an automated algorithm mobile app designed to provide users with personal safety and security services.
Best Enterprise Solution was awarded to My SmartCity which is a web and mobile app that enables residents to log calls relating to service delivery problems, including potholes, monitoring power or water outages.
Best Breakthrough Developer was awarded to Chillers Market which is an app that allows its users to buy and sell goods and services in a convenient and secure way.
Best Hackathon Solution went to YabiSaba, a booking platform that helps digital nomads to discover co-working spaces around the world.
Best Health Solution went to Buzzer Community Safety, an app that aims to develop to keep communities safe and connected.
Best Agricultural Solution was awarded to Axl which is an online equipment rental platform designed to facilitate the convenient hiring of equipment.
Best African Solution went to Angola's Appy Saúde, which allows users to order, pay and receive pharmaceutical products from the main pharmacies in that country.
---
Want to know more about mobile financial services in Africa? Check out our dedicated Fintech content channel here on Connecting Africa.
---
Best Financial Solution was awarded to Franc, which is an app that makes investing easy and accessible.
Best Gaming Solution and Best Educational Solution went to Recess, which takes the e-learning experience to the next level by making exam preparation social, fun and visual.
Best Huawei App Gallery Category was awarded to HOMii an app that allows users to stay connected to the city, this category was reserved for apps developed for the Huawei App Gallery. Related posts:

*Top image is of MTN's Nomsa Chabeli, Shoprite SA's Arthur Khosa and MTN's Kholofelo Magagane (Source: MTN ).

— Matshepo Sehloho, Associate Editor, Connecting Africa