Cell C's financial struggles continue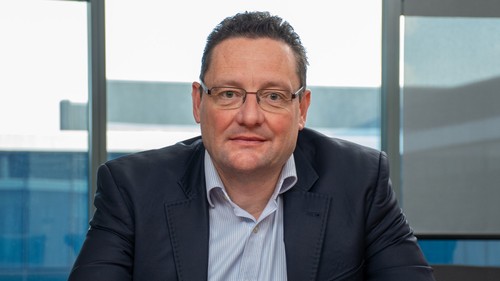 South African operator Cell C recorded a net loss after tax of almost R7.6 billion (US$460 million) in the six months to June 2020 and lost 4.5 million customers year-over-year.
The loss was a massive jump on last year's half-year loss of R875 million ($53 million) and Cell C said it was mainly a result of one-off costs and adjustments.
Overall revenue was 8% down from R7.4 billion ($450 million) in 2019 to R6.9 billion ($420 million) in 2020. More than 89% of Cell C's revenue comes from service revenue which saw a 6% decline to R6.5 billion ($394 million).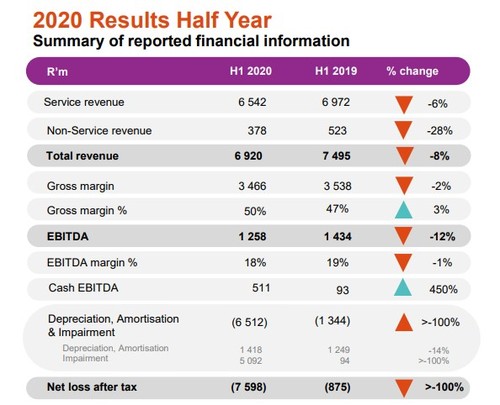 Execs tried to put on a brave face insisting that the group's turnaround strategy was working and would ultimately reposition the operator for long-term success.
"Our turnaround strategy rests on four pillars, namely improved operational efficiencies, restructuring our balance sheet, implementing an innovative network strategy and improving our overall liquidity. This set of results highlights that our operational focus is in line with our effort to reposition Cell C for long-term success," said Cell C's CEO Douglas Craigie Stevenson during a digital briefing with journalists.
Recap on the way
The group has been trying to recapitalize the business for over 18 months and Craigie Stevenson said they are close to finalizing a deal.
"It's a complex restructure with multiple stakeholders. Good progress has been made with regards to this and we are in the final steps of the term sheets with respect to that," he said.
"Investors are looking forward to the proposed recapitalization that will not only significantly reduce debt, but will also provide working capital which will drive revenue growth and profitability," the CEO said.
CFO Zaf Mahomed said that despite the challenging circumstances which impacted on the commercial spend, the company was still able to improve its operating margin.
"The first six months of 2020 was characterized by the continuing slowdown in the economy which weakened general customer spend. We have taken active steps to reduce our focus on pure revenue and subscriber growth and have shifted to more profitable, long-term growth in the prepaid and contract segments."
He said Cell C had generated R418 million ($25 million) more cash from operations compared to the previous period.
Earnings before interest, tax, depreciation and amortization (EBITDA) was lower for the period at R1.2 billion ($73 million), compared to R1.4 billion ($85 million) a year ago. Earnings before interest and tax (EBIT) was declared at a loss of R5.3 billion ($320 million), compared to a profit of R90 million ($5.5 million) in H1 2019. Excluding once-off recapitalization and restructure costs, EBIT for the half year would have actually improved by 80% at R162 million ($9.8 million).
Mahomed explained that the company does not have an income statement problem, but rather it has a balance sheet problem because it has too much debt and that's what the recapitalization is hoping to address.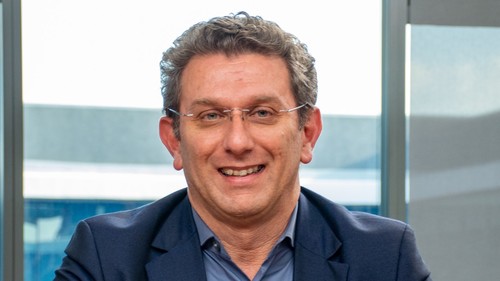 Focus shift
There seems to be a major shift away from spending money on infrastructure in a capital intense environment to rather becoming a wholesale buyer of network capacity and infrastructure services and shifting to be more of a digital solutions provider.
"To stay competitive, Cell C had to take a different approach against our large rivals who are all heavily invested in capital-hungry infrastructure – three operators with large scale infrastructure simply doesn't make financial sense," Craigie Stevenson explained.
"Our vision is to be the biggest aggregator of wholesale capacity and customer to the infrastructure providers. We will collaborate on infrastructure but compete on products and services. The 4G roaming agreement with MTN is the first step in cost synergies and bringing tangible benefits to our customers," he added.
He explained the changes in operating model would see Cell C have focused investment, partnering and becoming a buyer of services rather than a structure of building and running everything itself.
However, Craigie Stevenson emphasized that the telco is not being diluted into what some have called a "super- MVNO" (mobile virtual network operator).
"We are not in any way a super-MVNO as described... we are still a spectrum license holder, we still have license obligations, we control our core network investment, we control our quality of service, we control our core and our backhaul, we have our own interconnection agreements, own-number ranges and retail pricing and products."
The group is also reshaping its retail footprint and plans to close around half its physical stores which will affect 546 jobs. Cell C today said the closures will happen in a phased approach over an 18-month period as leases expire or are taken over by third parties.
In June the telco also told Connecting Africa it was looking into laying off almost 960 junior staff, or around 40% of its total workforce of 2,500. In May, 30 senior management positions were also made redundant.
Customer exodus
Cell C's customer base dropped 28% year-on-year from almost 16.3 million in the first half of 2019 to 11.7 million this year. This officially puts Cell C in fourth place when it comes to South Africa's mobile operators, behind Telkom which has grown into third place with 12 million mobile customers as of the end of March 2020.
The telco's prepaid base decreased by 35% over a 12-month period, however, this translated into only a 9.9% decrease in prepaid revenue and average revenue per user (ARPU) actually increased 27%. This gives a bit of context to the group's strategy to focus more on profitable subscribers rather than just growing a massive unprofitable subscriber base.
The contract base also declined by 14%, but ARPU increased by 9%.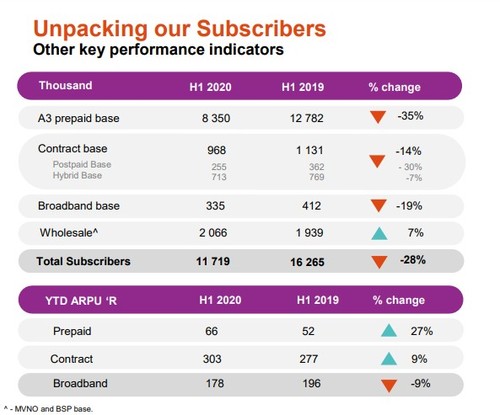 "I've maintained that if I wanted to increase the subscribers, it wouldn't be difficult to put out a reckless deal into the market that would easily be able to bring on subscribers," said Craigie Stevenson said. "I think it's more important than ever that Cell C in this current period, up until the recapitalization is finalized, is careful and conscious of the types of deals that we put out to customers. So that we put deals into the market that makes sense to everybody and that have the right value for the right customer."
He said he expects operating margins to improve over the medium term as the business transitions to its new business model.
"The last six months show the early signs of recovery – our earnings are up, our margins are stabilizing and there is a strong single-mindedness on cutting additional costs. We are leading the way in building a reloaded Cell C that creates value for its stakeholders," Craigie Stevenson concluded.
*Top image is of Cell C CEO Douglas Craigie Stevenson. (Source: Cell C).
— Paula Gilbert, Editor, Connecting Africa