Safaricom, Google partner on Kenyan smartphone financing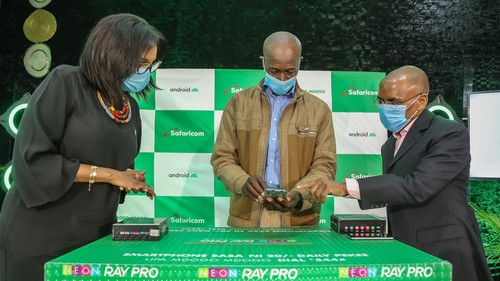 Kenya's largest telecoms operator, Safaricom, is joining forces with Google in a mobile financing project to get more 4G-enabled smartphones into the hands of Kenyans.
Safaricom is trying to enable Kenyans with 2G or 3G phones to upgrade to 4G devices and the partnership with Google will allow qualifying customers to buy 4G-enabled smartphones and pay them off in very low installments of as little as 20 Kenyan shillings (US$0.20) a day.
Safaricom has around 35.6 million customers in Kenya and Omdia research shows that only about 2.5 million of its customers are using 4G services, while over 21 million are still on 2G and almost 12 million are now on 3G.
Safaricom CEO Peter Ndegwa said in a launch video on his Twitter page that the partnership is a world first and he is confident it will be "transformative" to the lives of Kenyans despite the tough economic times they are facing.
"Smartphones in the hands of our customers possess life-transforming possibilities. They open a new world. We aim to take that world into the hands of every consumer through affordable means," Ndegwa said.
"Together with our key partner Google, and specifically Android, we are aiming for an additional 1 million customers who will be able to access and leverage the power of the Internet, and this is just the beginning, connecting them to the economic opportunities presented by Internet access," he said.
Ndegwa said Safaricom's smartphone penetration is only at around 42% of customers and specifically 4G handset penetration is only at 17%, which presents an opportunity for growth. In contrast he said that Safaricom's 4G network covers around 77% of the population in Kenya, while 2G and 3G coverage is about 95% of the population.
Mariam Abdullahi, Android platform partnerships for Africa director, said that Android's goal has always been to bring the power of computing to everyone.
"Access to the opportunities the Internet offers is critical for any nation's economic growth and social inclusion. We believe that this collaboration will bring more Kenyans online and help them take advantage of the opportunities that exist online," she said.
"One of the most significant barriers to mobile Internet adoption has always been that of smartphone affordability. We team up with mobile network operators and device manufacturers across the world so that we are able to extend our impact on Internet usage to drive digital economies," she added.
The deal has been dubbed "Lipa Mdogo Mdogo" – which roughly translates from Swahili as "pay a small amount" – and the Google smartphone that subscribers can finance is the Neon Ray Pro. The smartphone usually retails locally for about KES5,999 ($55.70) but can now be purchased for a down payment of KES1,000 ($9.30) and then payed off in installments over 12 months.
"Through smartphone device financing, we plan on ensuring that every Kenyan can use a 4G device for the first time without putting a dent on their wallets," Ndegwa added.
Safaricom said that the eligibility of the financing plan will be based on customer credit scores. Those who want to access the financing plan have to be between the ages of 18 and 75 and will need to have been a Safaricom customer for at least one year already.
*Top image: Android platform partnerships director for Africa, Mariam Abdullahi, Safaricom customer Evans Angwenyi and Safaricom CEO Peter Ndegwa test out the Neon Ray Pro 4G-enabled smartphone in Nairobi.
(Source: Safaricom).
— Paula Gilbert, Editor, Connecting Africa