Rolling blackouts hurting SA operators & customers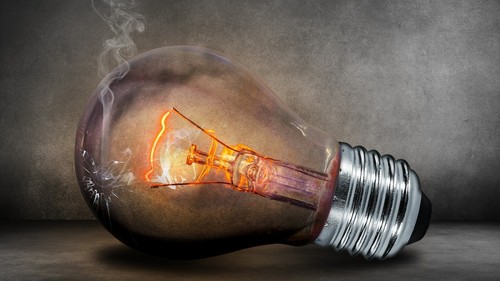 Rolling power blackouts across South Africa are putting pressure on the country's mobile networks, costing operators money and impacting services for mobile customers.
The blackouts are part of deliberate "load shedding" by state power company Eskom. Incessant rains which have hit the country since last week caused flooding at some power stations and impacted coal handling and operations, pushing Eskom to implement load shedding to avoid a national blackout.
The ongoing power cuts are impacting the South African economy, which includes telecoms network operators.
"Load shedding has a devastating effect on all mobile operators, significantly increasing operational costs associated with keeping basestations alive and protected, as well as, negatively impacting customer experience," Cell C told Connecting Africa via email.
"Load shedding puts significant pressure on our resources both human and financial to ensure that customers remain connected to the network. The adverse weather conditions also adds further complexity to our ability to service areas experiencing flooding," Telkom said in response to questions.
Operators all have backup power at their basestations but batteries can only last so long without power and will eventually fail, leaving customers without cell services.
Vodacom spokesperson Byron Kennedy told Connecting Africa that around 200 basestations can be down across South Africa at any given time during Stage 4 load shedding.
On Monday evening the nation was shocked when Eskom moved load shedding up to Stage 6, the first time it had peaked higher than Stage 4 in the history of the power-saving tactic.
What is load shedding?
Load shedding has been happening intermittently in SA since November 2007 and is the deliberate shutdown of electric power in parts of the power-distribution system as a way to prevent the failure of the entire system when capacity is strained.
Different suburbs are turned off at different times -- for two to four hours at a time -- to try to manage the overall power supply in the country. The higher the load shedding "stage" the greater the number of customers without electricity across the country and also the more frequently your power will be switched off each day.
At each stage South Africa as a whole is forced to save 1,000MW of power, so at Stage 4 the grid "sheds" 4,000MW of power and Stage 6 pushed that up to 6,000MW. If the system was to reach Stage 8 -- the highest Eskom has planned for -- it would mean that all South African homes and businesses would only have power for 50% of the day.
"We assure customers that load shedding is a responsible act and highly controlled process, implemented to protect the country from a national blackout," Eskom said in a statement on Monday night.
On Tuesday load shedding was dropped back to Stage 4 and citizens were warned that this would continue until 23:00.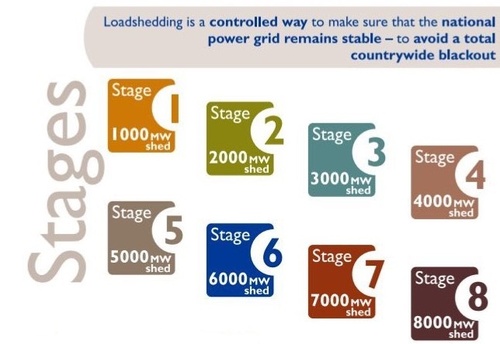 Telcos struggle
All four of South Africa's major operators told Connecting Africa that the majority of their sites have backup battery systems or generators for when the power is out. However, the frequency of load shedding is resulting in batteries not having enough time to recharge once power is restored.
"Despite significant investments in battery backup systems and generators, MTN's mobile sites continue to face significant threats, due to Eskom's ongoing load shedding and in particular the introduction of stage six load shedding," MTN said in a statement on Monday night.
"The batteries generally have a capacity of six to 12 hours, depending on the site category and require 12 to 18 hours to recharge, which in stage three and four load shedding is simply not happening. This situation is exacerbated with the introduction of stage six load shedding," explained MTN SA's executive for corporate affairs, Jacqui O'Sullivan.
Vodacom had very similar issues, saying that during load shedding its cellphone towers remain fully functional for as long as the batteries last or the backup generator keeps running.
"Once power is fully depleted, the tower stops working entirely and, depending on the configuration of nearby towers, may cause a coverage area to black out entirely or for customers to experience intermittent service. Generators run on diesel, which means they can continue to run while being refueled. Batteries, on the other hand, will last anywhere from four to eight hours before they will need electricity to recharge," Vodacom's Kennedy explained.
"The base station will run off the batteries as long as they last. When the customers' primary site goes down, they will be served by a secondary site if it exists, otherwise the customer will not have service for the period the sites is down," he added.
Cell C also confirmed that it uses both backup battery power and generators to keep up service to customers, however, "load shedding depletes the efficacy of batteries given that they are not given adequate time to recharge, which means that battery backup becomes shorter every time".
"Generator backup is assigned to high dependency sites with multiple dependencies, but it is not possible to get to all load shedding affected areas. Additionally there is a knock-on effect that lingers after the period of load shedding, when for example substations need to be manually restarted by Eskom," Cell C's spokesperson said.
"While Cell C continues to do everything it can to maintain customer connectivity, this is not always possible with the electricity issues the country faces. Stage 4 load shedding makes this significantly more difficult and there are customers that will experience poor signal during these periods."
Telkom said it has teams deployed across the country to ensure that customers experience as little as possible disruption.
"Most of our sites have back up batteries, standby and mobile fleet that we can despatch to sites should a need arise. Also note that these sites would go back to normal operation once power is restored in the area," Telkom added.
MTN said it is currently sourcing additional generators to support existing infrastructure and regional "war rooms" have been established to give the operator an hour-by-hour account of its systems to keep customers connected.
"Teams of technicians are being redeployed as and where required additional shifts are being added to restore and maintain connectivity, as quickly as possible, for our customers," added O'Sullivan.
MTN added that although load shedding does result in network degradation, the operator was able to maintain 97% uptime of its 4G network and 90% uptime of its 2G and 3G network.
Vodacom said it has already deployed additional resources, batteries and generators at numerous sites across the country.
High costs
Excluding the amount spent on new batteries for new cell phone sites, MTN spent around R300 million (US$20.5 million) in 2018 on batteries for existing sites. In addition to the batteries, MTN has 1,800 generators currently in use.
Cell C agreed that backup power "is a major cost and is needed to provide power especially to high dependency sites."
Vodacom also confirmed that the cost was high saying that the investment in backup power for basestations "can be as high as hundreds of millions of Rands per year."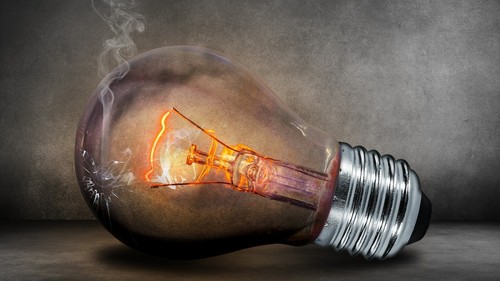 Vandals and thieves
In SA another significant additional cost is the extra on-site security that is needed to protect the batteries, generators and general site equipment from thieves and vandals.
O'Sullivan told Connecting Africa that MTN spent more than R100 million ($6.8 million) in the past year dealing with acts of theft and vandalism.
"Network operators across the country have been battling sophisticated syndicates that have been stealing batteries daily. However, load shedding is seeing entire neighborhoods cloaked in darkness at predictable times, which is offering criminals greater cover for their thieving," she explained.
"MTN has had to deploy security teams around the country to protect the equipment at these sites, once again, at significant cost to the company."
Vodacom said it did not have any specific stats for vandalism during blackouts but said in general the operator is experiencing "up to 600 incidents of vandalism/theft at sites per month and up to 275 sites experience battery theft per month."
Cell C said that vandalism to its sites increases on average by between 10% and 15% during load shedding periods.
— Paula Gilbert, Editor, Connecting Africa