Vodacom Reports Growth Despite Tough SA Market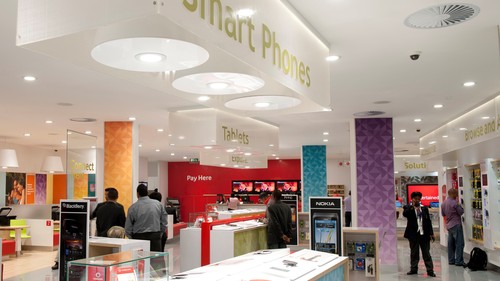 Vodacom reported a decline in sales in its home market of South Africa during the final three months of 2018, but its other operations helped it post a 1.5% growth in revenues for its fiscal third quarter.
Despite a 1.3% year-on-year decline in revenues in South Africa in the October-December quarter, Vodacom reported an overall increase in group revenues to 23 billion Rand (US$1.66 billion), thanks to a double-digit increase in sales outside its home market.
Group service revenues were up by a modest 2.4%, while total revenues (including device sales) grew by 1.5%, excluding the impact of exchange rate fluctuations: With those exchange rate changes included, those revenue growth numbers shrink to just 1.6% and 0.7% respectively.
All markets combined, Vodacom is now serving 79 million subscribers, up by 7.1% from the end of 2017.
In South Africa, its home market, Vodacom had a difficult quarter, which Vodacom blamed on weak consumer spending. In order to mitigate the impact, the operator launched more competitively priced packages in the quarter, but the measure "did not yield the expected elasticity given a tougher than anticipated consumer spending environment." As a result, despite gaining 86,000 new contract customers, the total service revenues went down by 0.9%. ARPU of both contract and prepaid users went down slightly, from R393 to R385 and R59 to R54 respectively. Device sales were also reported to be soft, largely due to the weakness of the South African Rand, which made imported phones more expensive.
On the positive side, Vodacom saw data traffic per device increase by 31.9% to reach 1.1 Gbytes per month. The number of 4G subscribers also recorded an impressive growth of 40.5% year-on-year to reach 9.2 million in total. The company's 4G network now covers 90% of the population in South Africa.
Vodacom's other markets performed much better. All markets combined -- Mozambique, Tanzania, DR Congo, and Lesotho -- the operator gained 449,000 subscribers to reach a total of 35.2 million, up by 9.3% over the same period in 2017. The total service revenues grew by 13.2% to reach R5.2 billion ($380 million), accounting for 27.5% of the total Group level service revenues. Equally encouraging is the growth in data services. The total number of mobile data subscribers increased by 15.7% but total data revenues were up by 25.4%, indicating an upward trend in data consumption per user. Indeed, the total ARPU of all the international markets have either held flat (Tanzania) or slightly increased (the other three).
Probably the service that stood out was the robust growth of M-Pesa. The mobile money service generated R851 million ($62 million), which was a 30.3% increase from a year ago, and is now accounting for 16.4% of the total service revenues. The total number of M-Pesa users 13.4 million in the four markets.
One point of note -- all the numbers do not include Safaricom, the Kenyan market leader in which Vodacom has a 35% stake. A pro rata allocation of Safaricom's results would make the Vodacom numbers, those in the international markets in general and M-Pesa in particular, look more impressive. Safaricom's results are published twice a year.
— Wei Shi, Site Editor, Connecting Africa