Discussing digital
t

hings: Connecting Africa Interview with Digital Week Speaker Bora Varliyagci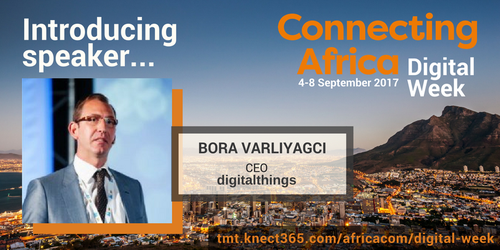 Connecting Africa's first ever
Digital Week
is less than a month away and promises a week-long online agenda of free-to-access webinars and downloadable resources on all things Africa tech and telecoms.
To get you prepared, Connecting Africa is pleased to introduce digitalthings CEO and Digital Week webinar speaker, Bora Varliyagci. As a webinar panellist, Varliyagci will be taking part in the valuable discussion of connectivity and digital inclusion in Africa alongside other industry experts.
Connecting Africa: Can you tell us a bit more about what led you to found digitalthings and what are its main goals and services?
Bora Varliyagci: I have worked for large corporates for a big part of my career and I was the Head of Africa for a large international consulting firm prior to founding digitalthings. While the experience and capacity of large corporates are invaluable in maturing the digital developments on the continent, lack of their risk appetite and agility coupled with their relatively prohibitive cost structure, leaves a sizable gap on the market to serve early stage project developments, small- to medium-size enterprises and their investors. digitalthings aims to fill this gap through its network of highly skilled and best in class associates and partners.
I have worked extensively in Africa and other emerging markets; I was lucky enough to meet and work with a large and valuable network of people representing a wide range of stakeholders within the industry, from network operators to service providers, from government institutions to investors.
Bridging the shortcomings of the large corporates with a large network of industry stakeholders and best in class experts enables digitalthings to pioneer meaningful partnerships in the industry, and to drive development of pragmatic solutions to complex business challenges. With that said, founding digitalthings was a natural evolution of a vehicle that could facilitate the adoption and enhancement of digital developments in Africa.
In a nutshell, digitalthings is a focused advisory services provider, specializing in digital infrastructure, cloud and internet of things solutions, broadband networks and services. We assist with development of feasible projects and sustainable business models, while turning our clients' strategies into success and safeguarding their investments. We enable innovation in context.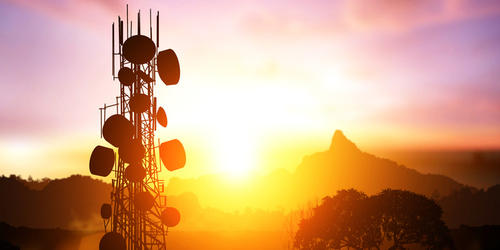 Connecting Africa: How have you been able to utilise your position as a part of the FTTH Council Africa to aid further collaboration in digital connectivity?
Bora Varliyagci: FTTH Council Africa has been very instrumental in the development of fiber-based broadband infrastructure on the continent. Through its engagements with policy makers, industry players, end users and resident associations, the council has been educating the stakeholders on the benefits of broadband and the importance of fiber networks to deliver it. FTTH Council Africa has truly paved the way, accelerating the deployment of fiber networks and opened a new era in Africa which brings the fiber-based, reliable and true broadband connectivity not only to businesses but also to residential end users. The council's CEO, Juanita Clark, rightfully deserves to be recognized for these achievements.
As a board member of the council, and working in cooperation with our CEO and other fellow board members, I have been and will continue to support further development of optical fiber networks in Africa through raising awareness, carrying lessons learned from one project or country to another, and advising industry players and government institutions in creating a successful, sustainable and quality-driven business ecosystem. I aim to continue promoting the role and importance of fiber-based networks in expanding broadband reach and bridging the digital divide. I believe that this can only be achieved through establishment of a harmonious sector that closely works with government in addressing the challenges in front of rolling fiber networks out faster and cost effectively.
Connecting Africa: African connectivity has made some encouraging strides in recent years. What do you think is the driving factor behind this growth?
Bora Varliyagci: In my opinion, it's been an evolution.
The arrival of the international connectivity capacity through submarine cables since 2009 and their growing capacity and competition have eliminated the dependency on costly satellite backhaul for most African countries. This development was then followed by roll out and enhancement of regional and national long-haul fiber networks carrying the vast international capacity inland and closer to the major cities and end users. Naturally, and not surprisingly, we are seeing more and more metro layer network developments nowadays: Those bring the fiber reach closer to the end users or, as often referred to, the 'last mile.'
The growing number of metro, national and regional fiber networks do bring the competitiveness and cost reduction along with them. For example, in South Africa and Kenya, where the national and metro networks have established a good coverage and competition has grown in presence of multiple players, we are witnessing an increased and fast-growing reach of last mile broadband networks. Where it is commercially viable, fiber is being extended to the end users, particularly with the adoption of open access approach, and Wi-Fi, LTE, as well as some other wireless broadband last-mile networks, are deployed to cover other areas.
Acceleration in broadband and last-mile connectivity, which is now visible to the end users, wouldn't have been achieved if the high capacity networks at submarine, national and metro layers hadn't been established and expanded.
There also have been other important developments contributing to the acceleration of growth in connectivity, such as infrastructure sharing. Driven by revenue pressure and challenged by the competition of OTT services, the appetite of incumbent operators has grown for infrastructure sharing during the past decade. For example, the number of shared towers by mobile network operators was insignificant in 2009, yet today more than 50% of the towers are shared in sub-Saharan Africa. On the other hand, the market witnessed the emergence of successful open access players beyond the independent tower companies, from open-access fiber operators to carrier-neutral data centers in the same period. Infrastructure-sharing has reduced the cost of operations for the existing service providers and eased the market entry barrier for the newcomers by eliminating the need for large capital investment.
Furthermore, we have seen the fast penetration and advancement of OTT services, social media and video content, jointly driving the need for broadband connectivity. Unlike a few years back, end users are no longer questioning the need for broadband connectivity – rather, they are impatiently demanding access to it. Such a demand increases commercial appetite and justifies investment in broadband networks.
Limited energy, transportation and water infrastructure in Africa makes the use of technology imperative in improving the efficiencies and meeting the growing demand. The need for smartening the way we operate our factories, electricity grids, mining operations [and] cities has started to drive the deployment of application-focused dedicated Internet of Things [IoT] networks both by established service providers and new market entrants.
Therefore, strides in African connectivity in recent years have been a result of all preceding developments over the past decade. As I said, evolution rather than revolution.
However, bridging the service gap at rural and underserved areas remains to be a great challenge. Well-planned policies and government support -- tax relief, offtake schemes, joint developments, etc. -- together with making valuable resources available, such as digital dividend spectrum, play a key role in improving the number of connected people and things. So, we still have a long way to go in achieving complete digital inclusion.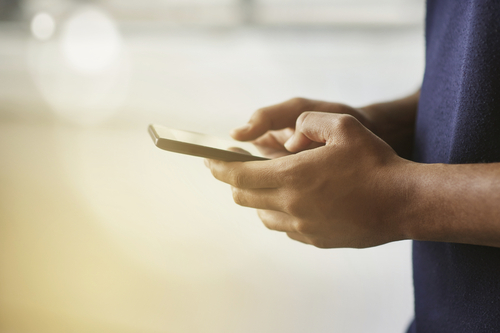 Connecting Africa: What do you consider to be some of the key blockers that still hinder widespread connectivity in Sub-Saharan Africa?
Bora Varliyagci: This is a topic we are going to cover in detail during our webinar. There are both supply- and demand-side barriers.
Supply side -- funding (particularly for rural and underserved areas): Due to low to non- commercial viability, establishing sustainable business models in rural and underserved areas requires public support and participation. There are several ways to increase investment appetite and overcome funding challenges in these areas, ranging from direct government intervention in expanding networks through use of universal service and other development funds, to demand stimulation through offtake commitments to increase the investment appetite of private sector. Nevertheless, formulating sustainable solutions requires proper studies and planning to analyse and understand underlying shortcomings before rushing into execution. Otherwise, some of these well-intended projects may fail to achieve their objectives.
Supply side -- policy uncertainty and misalignment (and impact on business levers, over/under supply): It is imperative that government policies align with the digital inclusion objectives. For example, spectrum allocations and auctions -- particularly sub-GHz digital dividend frequencies – [that can] drive digital inclusion should be holistically studied. If a government aims to generate high revenues in selling this spectrum and does not utilize the proceedings in achieving the digital inclusion, or, on the contrary, reserves all new spectrum in establishing a new national broadband operator, hence putting all its eggs in a single basket, it may well be driving long-term and irreparable damage on the market. Such measures may not only derail the efforts in digital inclusion but also degrade the quality of service in existing operations.
As the bottom line, any intervention should be well studied.
Supply side -- shortage of skilled resources and experience: ICT skills are scarce on the continent… digitization requires urgent actions to bridge the growing skills gap rapidly. This is not only essential to fulfil the new operational roles required to ensure that quality of service and end-user experience [levels] are sustained by the service providers, but also for strategic planning of new project developments and their sustainability.
Supply side -- lack of proper planning: With thorough, proper planning and incorporation of ICT infrastructure projects in other utility and city development projects -- roads, utilities, oil and gas pipelines, etc. -- the cost of infrastructure could be drastically reduced. Most large infrastructure tenders and scope of projects still fail to incorporate ICT as an integrated part.
On the other hand, harmonizing the new telecommunication Infrastructure projects between the different network operators could minimize the duplication of efforts, helping to avoid wasteful expenditure. During the past few years, we have seen considerable improvements and coordination in this space – however, they do not make a dent on a large scale yet.
Demand side -- affordability (service and end-user devices): Often, connectivity gaps are associated with the lack of infrastructure. However, the cost of services and end-user devices remains a key challenge, even within the well-covered areas. Improvement of service-level competition through infrastructure-sharing, and [improved] affordability of end-user devices through fiscal measures, such as tax relaxations, will go a long way in helping to connect more people.
Demand side -- content relevance and awareness, digital literacy and appreciation to benefits: As we are trying to reach lower LSM [living standards measure] pockets, the consumer decisions are driven by the relevance and value of the services enabled by the connectivity. It might well be a decision to buy bread or [mobile] data. Therefore, making relevant content and services available, that are clearly improving the quality of life and proving real value to the consumers, are essential in raising consumer interest. Furthermore, creating awareness around these service and benefits with effective community engagement plays a critical role. Governments and service providers need to ensure comprehensive plans are structured in connecting the unconnected that go beyond establishing the ICT infrastructure.
Demand side -- fit for purpose (both technology and end-user engagement): Choosing the right service and technology, that meet the requirements, is a critical task, particularly in operating businesses and mission-critical infrastructure. For example, high-capacity, best-effort networks may not be a good fit for applications such as tele-protection within the power utility operations, which require low latency and resilient service. Likewise, connecting thousands of smart meters with 3G/4G services may not be the most cost-effective solution. Therefore, awareness around technology evolutions and the development of alternative service offerings and pricing models are very important for the end users in driving their businesses forward. Unfortunately, the awareness around technology advancements and recognition of importance of digitization among businesses is progressing slowly.

Connecting Africa: Can you give us an example of how collaboration between telcos and regulators has improved African connectivity recently?
Bora Varliyagci: The One Network Area (ONA) initiative which started in East Africa with initial participation of Kenya, South Sudan, Rwanda and Uganda in 2014 is a good attempt to overcome some of the barriers. One Africa Network aims to harmonize tariffs on mobile voice calls, SMS and data transmission and to promote regional integration in lowering the cost of mobile roaming with a set of regulatory interventions. It eliminates the charges for receiving calls in the region [and] for originating calls within these countries. Governments waive the excise taxes and surcharges over roaming traffic within the region, while capping the wholesale and retail prices for the operators. End users therefore benefit from reduced cost of communication while roaming within the region: In return, telecom operators see considerable increase in traffic and revenues. There are ongoing discussions to extend the ONA programme to other east and west African countries.
On the other hand, rapid deployment guidelines included in the National integrated ICT white paper in South Africa, currently being drafted into legislation, aims to promote infrastructure-sharing and incorporate planning of ICT infrastructure as an integrated part of any other development projects (road or utility construction, town planning, building codes, etc.). At the same time, it aims to remove the lengthy administrative barriers in front of telecommunication infrastructure projects by simplifying wayleave and tower permit processes.
Such measures can expedite the expansion of broadband networks, increase investment appetite and reduce the cost of connectivity.

Connecting Africa: What are you looking forward to most about presenting during Digital Week?
Bora Varliyagci: Creating awareness around real challenges and barriers in front of the digital agenda.
There is no question that connectivity and broadband are recognized as basic human rights by most governments. While the recent developments in Africa for digital inclusion have been encouraging, half of the population is unconnected to basic telephony services, [an] only a quarter have access to the Internet… patience is running out and frustration is growing. Despite all the best intentions, the number of rushed and unplanned projects is growing… most end up missing their targets.
Proper planning, through studies and stakeholder engagements, is essential in the development of sustainable strategies. Therefore, I will aim to underline some of these concerns and explain how better engagement and strategic planning can improve digital inclusion.
Connecting Africa: What is digitalthings planning for the future?
Bora Varliyagci: While digitalthings will continue assisting private and public-sector stakeholders in the development of successful ICT infrastructure projects, we will aim to drive the digital era in Africa through structuring sustainable data strategies.
We, the human race, just started a new era of data, often referred as the 4th industrial revolution. Driven by the Internet of Things and the growing number of human, device and sensor connections, the amount of data generated is exponentially and unprecedentedly growing. This growth comes with new commercial opportunities, as well as potential threats. As you would expect, the positives are highlighted more than the potential pitfalls. However, if not planned and anticipated well, this new era may also bring some serious risks -- socially, economically and politically.
In line with industry developments, digitalthings aims to be among the leading advisory practices in preparing Africa for the benefits and risks of the 4th industrial revolution.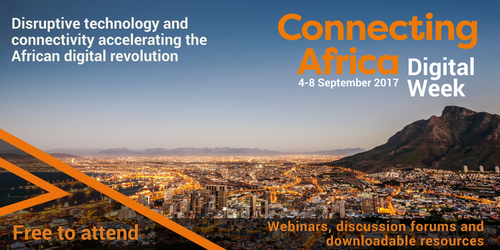 The Connecting Africa Digital Week is a free-to-attend series of online events dedicated to tracking the development of disruptive technologies in Africa.
Find out more about Digital Week and all the speakers taking part here.
Access exclusive resources, take part in discussion forums or live polls and watch on-demand videos by registering here.
Be part of the African tech and telco conversation here:
Twitter
Facebook
LinkedIn
Instagram
— Rachael McKie, Connecting Africa Writer