Opensignal: SA networks have worst 4G signal strength at night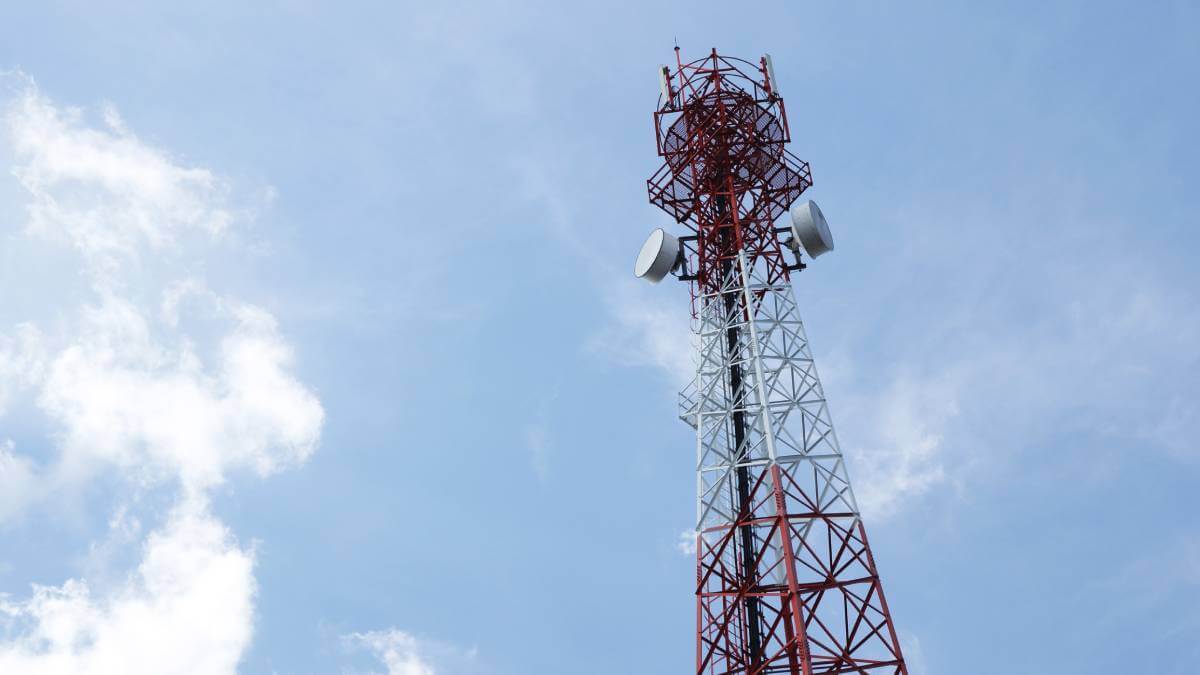 South African operators use less spectrum and carrier bands at night, while the 4G signal strength is also the weakest at night.
That's according to a new report from mobile analytics company Opensignal, which analyzed how energy usage changes on South African networks throughout the day.
Opensignal looked at the average amount of mobile spectrum that its users see when connecting to 4G services across four national operators in South Africa over the period of 180 days between November 1, 2022, and April 29, 2023.
"We observe much lower bandwidths used at night, between midnight and 6 a.m., than at other times of the day. At night, our users on Cell C, MTN, and Vodacomís networks see 18.7%, 14.9%, and 13% less spectrum bandwidth connected to their devices than in the mornings, between 6 a.m. and 12 p.m.," said Opensignal analyst and the report's author, Robert Wyrzykowski. "Meanwhile, our Telkom users see no statistically significant difference in the amount of bandwidth used for 4G connectivity throughout the whole day."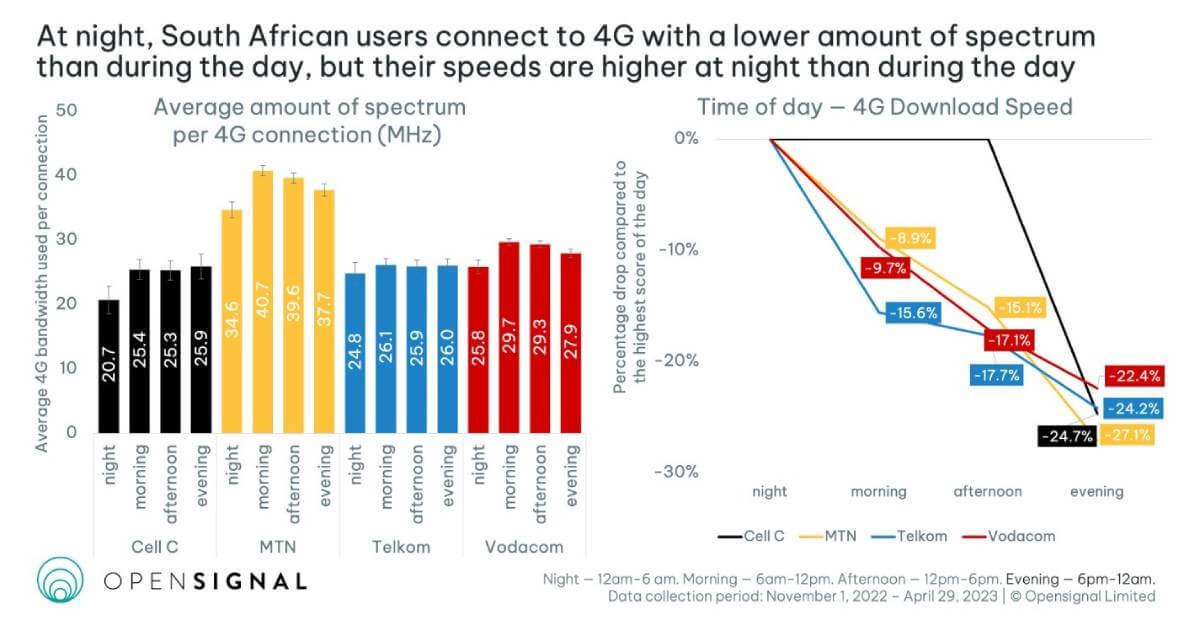 Operators often set networks to offer users less mobile spectrum at night, as there are lower levels of network traffic and so not as much spectrum is needed to offer a good experience.
By switching off spectrum bands, operators can save network energy costs. However, Opensignal users on MTN and Vodacom's networks observed the fastest average 4G speeds between midnight and 6 a.m.
"MTN and Vodacom's speeds gradually slow over the day, dropping to the lowest levels in the evenings, between 6 p.m. and midnight. Cell C and Telkom users also experience the lowest average 4G download speeds in the evenings – noteworthily, our Cell C users observe no statistically significant differences in average 4G download speeds between night, morning and afternoon," Wyrzykowski added.
The impact of load shedding blackouts
Scheduled power cuts by the South African government – known as load shedding – have become a major issue in the country and are impacting the times that networks are completely without signal in SA.
Opensignal looked at the times that users have no signal throughout the day across the nine provinces of South Africa.
It found that smartphone users in the Eastern Cape and Northern Cape provinces spend the most time with no signal in the mornings, while those in KwaZulu-Natal are without signal mostly in the afternoon.
However, some provinces like Gauteng or the Western Cape don't observe substantial differences in time with no signal throughout the day. These provinces also have the lowest time with no signal throughout the day, while Limpopo and Northern Cape see significantly more time with no signal.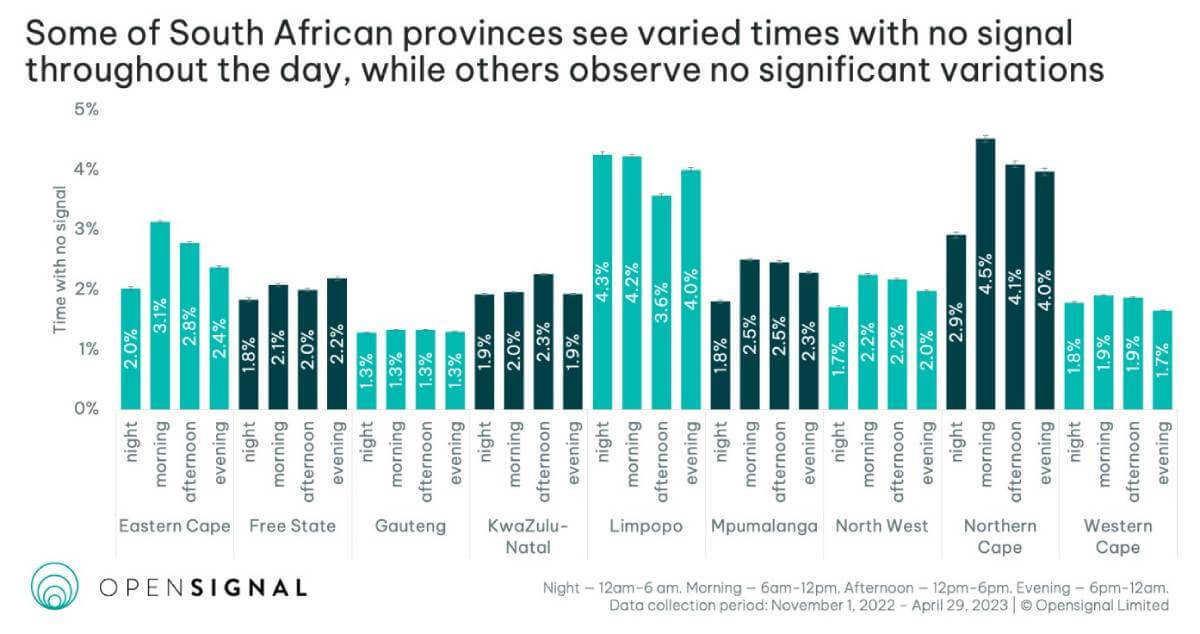 These regional differentiations can be partly explained by load shedding schedules and when different provinces are hardest hit on a daily basis. Provinces with big urban areas, like Gauteng and the Western Cape, are also more likely to have better backup power systems for towers compared to rural areas.
"Mobile operators use backup batteries to keep their sites operating in the case of planned blackouts. But while they invest in costly power backup options to retain the resilience of their networks, mobile sites are frequently plagued with battery thefts, which forces the operators to install additional elaborate safeguarding measures," Wyrzykowski explained.
MTN estimated that load shedding cost its South African operations around R695 million ($35.5 million) in 2022.
MTN said in March 2023 that it will invest R1.5 billion (US$76.5 million) in South Africa to help mitigate ongoing power blackouts in the country.
Earlier this month, Vodacom said it had spent R4 billion ($205 million) "on energy resilience capex" over the last four years and in the past financial year R300 million ($15.3 million) worth of operating costs went mostly to diesel purchases.
"Unfortunately, this R4 billion investment was a clear trade-off with new capacity and could have accelerated network expansion in 5G in South Africa," said Vodacom Group CEO Shameel Joosub.
Telecom operators have been dealing with the ramifications of load shedding for years, but over the past 18 months the country has had to endure far more power cuts than in the past. South Africa had over 200 days of load shedding during 2022 and has already endured 142 days in 2023 so far.
Related posts:
*Top image source: Cell tower photo created by aopsan - www.freepik.com.
ó Paula Gilbert, Editor, Connecting Africa