Mobile tech helping Africa's farmers face climate change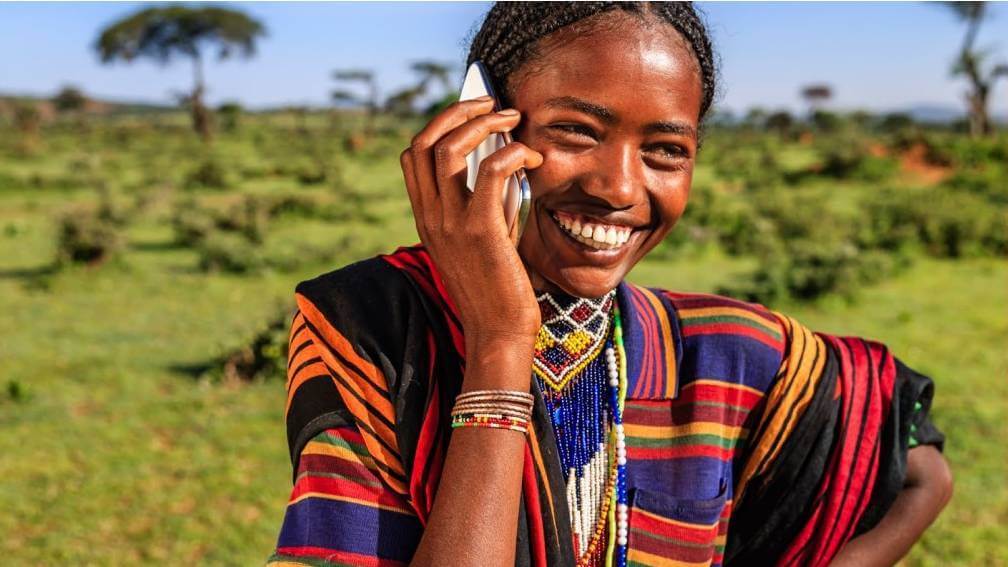 Driving inclusive access to digital technology, especially mobile-based technology, will help Africa's agricultural sector mitigate the impact of climate change
That's the view of a new report from Vodacom, Vodafone, Safaricom, and the United Nations Capital Development Fund called: Towards a Connected Climate: Leveraging digital technologies to break the cycle of food insecurity in sub-Saharan Africa.
The report's authors say that using technology to enable smallholder farmers to become more resilient is an urgent matter, as they comprise such a large part of Africa's farming sector.
It is estimated that the African continent is home to 250 million smallholder farmers. However, McKinsey data shows that despite sub-Saharan Africa being home to a quarter of the world's arable land, it only produces 10% of the world's agricultural output.
"Sustainably increasing farming productivity is imperative, and technology has a great role to play as a developmental tool. There is anecdotal evidence of this development in the markets in which Vodacom operates within the continent where smartphone penetration is still low but small-scale farmers are not outpaced," said Takalani Netshitenzhe, external affairs director for Vodacom South Africa and one of the report's authors.
"Exacerbated by the pandemic, the rise in food insecurity across the continent is alarming," Netshitenzhe noted.
The United Nations Food and Agriculture Organization (FAO) found that in 2021, around 346.4 million Africans suffered from severe food insecurity and an additional 452 million endured moderate food insecurity. That means that around 60% of Africa's population do not know where their next meal is coming from.
Yet, by 2050, the population of Africa is expected to double in size – by which point, the continent will be unable to grow enough food for its own people, let alone export food to drive economic growth.
A changing climate
Across Africa, climate change presents a major threat to agricultural development in the form of extreme weather conditions, such as the increased intensity and frequency of droughts, extreme heat, erratic rainfall patterns, heavier storms and flooding. This causes greater crop volatility, hampers livestock yields, and increases the likelihood of pest and disease outbreaks.
Farmers in developing markets are also typically more vulnerable to these changing weather patterns than farmers in developed nations.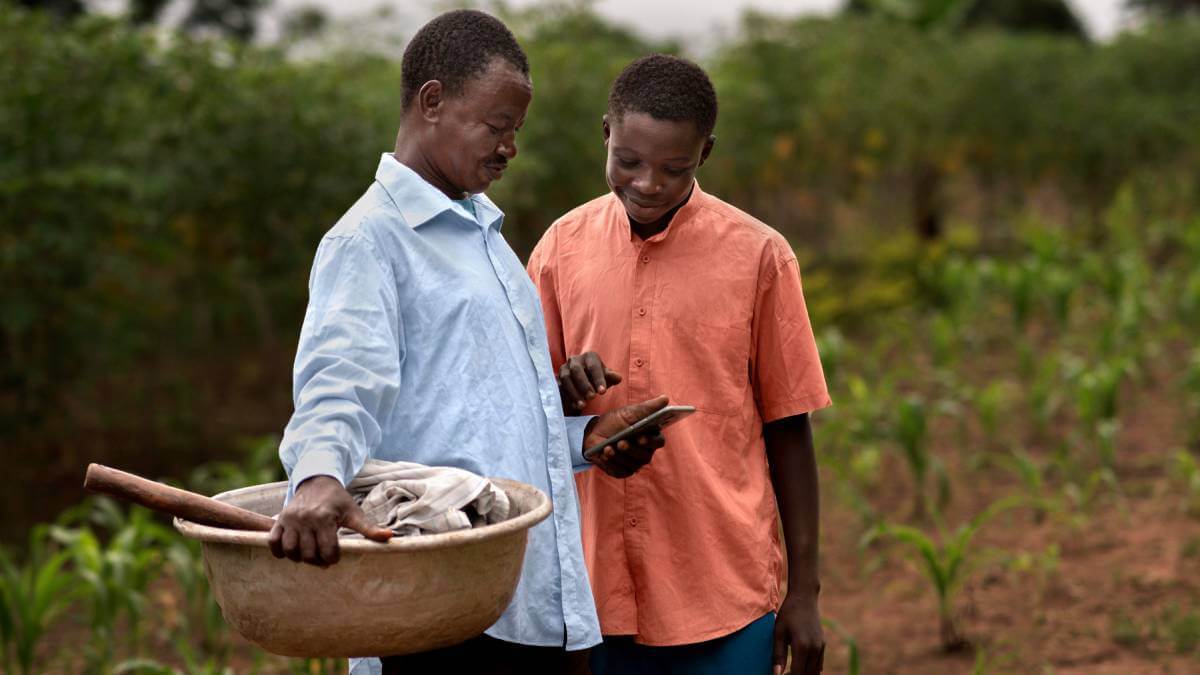 However, the report says that emerging evidence from Asia and Africa shows that digital solutions hold the key to addressing some of these challenges by increasing efficiency, productivity and income and enabling rural farmers to access real-time weather information so that they can better prepare and plan for extreme conditions.
Similarly, aerial images from satellites or drones, and the deployment of Internet of Things (IoT) tech such as soil sensors, can reduce vulnerability by making it possible for farmers to manage crop growth and crop health in real time.
Back to basics
"There's no denying that the introduction of mobile-based technology must be complemented by access to low-cost devices, network coverage and affordable data, especially for people in under-serviced and under-developed areas. To this end, government, the private sector, and civil society need to continue to collaborate on connecting underserved rural areas, ensuring that no one is left behind," added Netshitenzhe.
In 2021, over 1.3 million of Vodacom's low-cost smart feature phones were sold across South Africa, Mozambique and Tanzania – highlighting the demand for affordable handsets.
She said that Vodacom's African operations have examples of where simple mobile based technology can unlock opportunities, even for farmers using entry-level feature phones. For instance, URL and USSD-based platforms that enable access to financial services and farming opportunities are able to easily connect small-scale farmers to the agricultural value chain.
Local success stories
Case studies across Africa demonstrate the positive impact that access to even the most basic mobile technology can offer smallholder farmers.
In Tanzania, the M-Kulima mobile platform connects smallholder farmers to a wealth of information and resources via SMS, USSD and interactive voice response (IVR).
M-Kulima provides timely weather forecasts that help farmers plan around climate change and offers important market information to help farmers get the best price for their products. It's also integrated with the financial-services platform M-Pesa, fostering financial inclusion by providing a mobile money transfer service and enabling payments and micro-financing.
In Kenya, the DigiFarm platform – available via USSD or via an app – provides everything from basic farming advice to more advanced and mechanized support, like using drones to perform aerial surveys of smallholder farms. This gives farmers a better understanding of the topography of the land, helping them keep track of the best time to spray fields for pests or to fertilize their crops.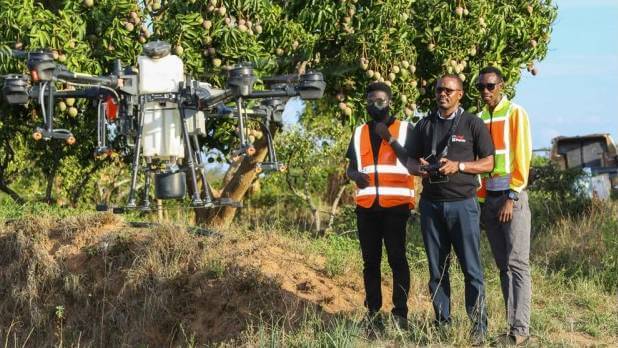 According to the FAO, female farmers in Africa control less land, have less access to agricultural extension services and inputs like fertilizers, and are less likely to use basic financial services or new technologies.
That is why in South Africa, Vodacom partnered with UN Women and South African Women in Farming (SAWIF) to establish a women farmers program. The program aims to make agriculture more accessible and profitable for women by teaching them how to use apps to connect to potential customers and unlock enormous economic growth. The project has so far trained more than 2,000 women.
"By pinpointing where farmers are struggling and proposing the path forward on the back of technology, we can make impactful, sustainable changes that will promote climate-smart agriculture on the continent," said Netshitenzhe.
In Egypt, Vodafone helps local communities use technology to improve farming. By digitalizing irrigation systems and adding sensors to the soil, farmers can control the irrigation system remotely via their mobile phone and water according to the needs of the plant.
---
Want to know more about technologies like AI, ML, IoT and smart cities? Check out our dedicated Emerging Tech content channel here on Connecting Africa.
---
The report recommends that to help digital technologies create an innovative, climate-proof farming sector in Africa, governments need to set political priorities including:
Producing digital agriculture strategies that set a clear vision of how digital enablement will support agricultural transformation.
Policy and regulatory reforms to incentivize investment in critical digital infrastructure.
Free and secure movement of data.
Access to digital devices and smartphones and reliable network coverage.
Fostering strong and lasting partnerships.
Related posts:
*Top image is from Vodacom, Vodafone, Safaricom and the United Nations Capital Development Fund's report: Towards a Connected Climate.
— Paula Gilbert, Editor, Connecting Africa