Data demand boosts Vodacom H1 revenue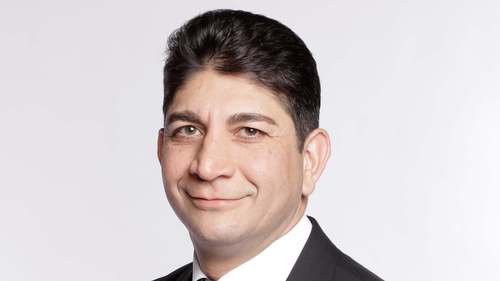 The COVID-19 pandemic didn't dampen Vodacom's interim revenue growth by much as the SA-based telco saw a big surge in data traffic and growth in data and financial services customers.
The group's revenue increased by 7.8%, to R47.8 billion (US$3.1 billion), for the six months ended September 30, 2020.
"While initiatives such as free peer-to-peer (P2P) M-Pesa transactions at the onset of COVID-19 impacted the financial performance of our International portfolio, it played an important role in facilitating economic activity in addition to being the right thing to do for customers," said Vodacom Group CEO Shameel Joosub.
He said the free M-Pesa P2P transactions boosted customer adoption of digital channels to the point where the M-Pesa ecosystem now processes US$20.5 billion a month in transactions across its international markets of Tanzania, Lesotho, Mozambique, DRC as well as Safaricom in Kenya, and contributed R8 billion ($517 million) in revenue in the period.
"Considering the magnitude of challenges arising from the pandemic in the past six months, it is particularly pleasing that we recorded a solid financial performance at Group level, where service revenue increased 7%," Joosub said.
This was underpinned by strong growth from the consumer and enterprise businesses in South Africa, where service revenue rose 7.1% despite reductions of up to 40% in monthly data bundles which came into effect on April 1, 2020.
Vodacom added 4.1 million customers compared to a year ago and now has a combined 120 million customers across the group, including Safaricom.
"In South Africa, data usage surged up 86%, as connectivity demands changed with a need to work, entertain and educate from home, and as we made substantial reductions in monthly data bundle tariffs," Joosub said.
Group earnings per share (EPS) grew 15.6% and headline earnings per share (HEPS) grew 15.7%. The group declared an interim dividend of R4.15 (27 US cents) per share, up 9.2% compared to last year.
The group added 1.8 million data customers to reach 63.1 million, and Joosub said just over half the group's customers are currently using data, meaning there is a lot more opportunity for growth on this front.
Financial services success
The group's financial services business grew 13.9% and added 6.7 million more customers in the half year, including Safaricom. It now has a total of 54.8 million financial services customers, or 46% of the group total.
The group is seeing success in its "bite size" products like nano-loans, nano-investment and cheaper short-term entertainment offerings and data bundles.
In South Africa the telco saw rapid growth of its Airtime Advance and insurance services. Airtime Advance customers increased 14.1% to 10.1 million during the six months.
Vodacom's lending product in Tanzania, Songesha, extended nano and small loans to 2.4 million customers, with facilities of 127 billion Tanzanian shillings (US$54.7 million) granted during the period.
Home market
Service revenue in Vodacom's home market of South Africa grew 7.1%, driven by an acceleration in customer service revenue in the second quarter.
In SA, data customers grew 4.1% to 22.3 million and smart devices were up by 9.5% to 22.2 million. The number of 4G devices on the network increased 28.8% to 14.2 million while the average usage per smart device increased 64% to 2.2GB per month.
"We sold 580 million data bundles in the six months, up 23% YoY. I'm encouraged by this behavior as it shows that customers are taking advantage of lower data prices, while at the same time growing into higher data usage," Joosub said.
Financial services revenue in SA grew 15% for the period to R1.1 billion ($71 million), with 12.5 million customers using a financial services product. Vodacom advanced R5.7 billion ($368 million) in airtime via its Airtime Advance platform – 38% of total recharges – and insurance policies in SA increased 23.4% to 2 million, with insurance revenue up 13.5%.
Vodacom recently entered into a strategic partnership with Chinese digital payment provider Alipay to develop a single lifestyle app for both customers and merchants that it believes will promote greater financial inclusion.
International interests
"Following a sustained period of very strong growth, the performance of our International operations was impacted by disrupted economies and livelihoods on the back of COVID-19, resulting in a 5.2% [normalized] decline in service revenue in constant currency terms. Our reported results show service revenue growth of 5.8%, benefitting from rand weakness. We expect consumer spend to recover as trading and economies re-open from lockdowns," Joosub said.
M-Pesa customers in the four international operations (excluding Kenya) also increased 8.8%, to 15.6 million, which is over 40% of the international customer base.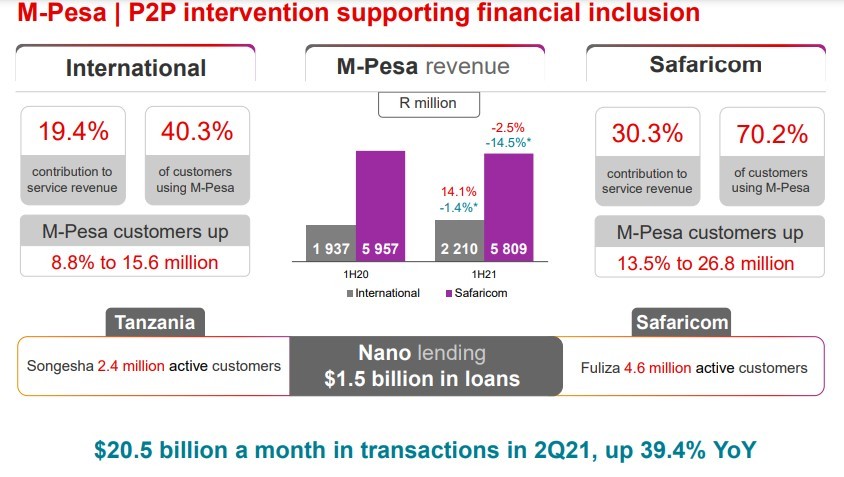 Safaricom added 1.9 million M-Pesa customers and 2.5 million total customers for the six-month period ended 30 September 2020. Mobile data grew 14.1% in Kenya and 4G devices using more than 1GB increased by 60.6%.
However, Safaricom interim results showed the impact of depressed economic activity and impacts from the free M-Pesa P2P transactions, with service revenue declining 4.8% for the six months.
Still, Vodacom's strategic investment in Safaricom delivered a 52.2% boost in group operating profit, buoyed by currency factors and a one-off deferred tax rate adjustment. Vodacom owns a 34.94% stake in Safaricom.
Joosub said he remains cautious about the pace of economic recovery across Vodacom's markets as disposable income will remain under pressure as a result of unemployment and depressed economic activity.
Ethiopian ambitions
The group has for some time been planning to make a bid for a new telecoms license in Ethiopia, as Africa's second most populous country is for the first time opening up its telecoms market to international investors.
"We are looking at Ethiopia as part of a consortium which will be led by Safaricom. Vodacom's direct interest won't be more than 5%. Safaricom will lead the consortium with a 51% investment and then a number of strategic international financial investors will make up the rest," Joosub said on a call with journalists on Monday.
In terms of the political situation in Ethiopia, Joosub said the group is monitoring the situation closely and would make a final call about an investment in the Horn of Africa nation down the line.
Long-time tensions between Ethiopia's federal government and the northern state of Tigray have escalated into fighting since early November and Bloomberg has reported that hundreds have already lost their lives.
Lesotho license
Vodacom is also experiencing some trouble in Lesotho where the Lesotho Communications Authority (LCA) has fined it M134 million (US$8 million) and is trying to revoke its operating license.
In October, the High Court of Lesotho granted Vodacom an interim interdict stopping the LCA from revoking its license or enforcing the fine for now. The matter will next be heard in the High Court on November 27, 2020.
Lesotho remains Vodacom's smallest market with about 1.2 million customers and 661,000 M-Pesa users. Vodacom does, however, dominate the market in the country with almost 70% market share according to statistics from market research company Omdia.
*Top image is of Vodacom Group CEO Shameel Joosub. All images courtesy of Vodacom.
— Paula Gilbert, Editor, Connecting Africa