COVID-19 bites into Safaricom profit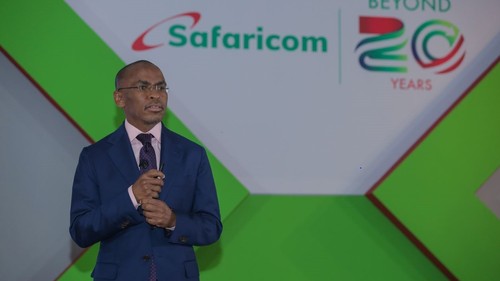 The economic fallout from the COVID-19 pandemic has eaten into Safaricom's first-half earnings with a 6% drop in net profit and a 4.8% decrease in service revenue for the six months to September 30, 2020.
The Kenyan operator saw net profit decrease to KES33.07 billion (US$304 million) with service revenue declining to KES118.41 billion ($1.09 billion).
"Our business has proved to be resilient despite tough operating conditions. There is no doubt that COVID-19 has dealt a huge blow to many people not just in Kenya, but across the globe. This has been a tough period for businesses – small and large alike – and our customers. We are committed to walk through this journey together," said Safaricom CEO Peter Ndegwa in Nairobi.
Voice service revenue dropped by 6.5% to KES40.19 billion ($369 million), while M-Pesa revenue dropped by 14.5% to KES 35.89 billion ($330 million). Messaging revenue also declined by 6.9% but mobile data revenue increased by 14.1%.
4G focus
Despite the revenue drop, Safaricom increased capital expenditure by 25.5% to KES22.75 billion ($210 million), and the telco said it plans to provide 100% 4G network coverage across Kenya by the end of this year.
Ndegwa said that currently Safaricom's 4G network reaches 91% of the population, up from 77% at the end of March. Meanwhile 3G coverage is at 94% and 2G coverage reaches 96% of Kenyans.
"As we go into our third decade as an organization, we aim to create a technology business by developing new digital ecosystems in health, agriculture and education sectors as we aim to provide digital solutions for our customers," added Ndegwa, as the company celebrated its 20th anniversary this year.
Service revenue slowed down in the first quarter, declining 8.4% year-on-year (YoY), however some recovery was visible in the second quarter with a smaller decline of 1.2% YoY as COVID-19 restrictions began to lift in Kenya.
Board chairman, and ex-CEO, Michael Joseph said the board was encouraged by the positive trajectory witnessed in the second quarter.
"The adverse service revenue performance is mainly attributed to the decline in M-Pesa and voice revenues. Relative to the prior year, voice declined 6.5% YoY as the growth in customers and usage is offset by continued downward movement on the effective rate per minute," Joseph said.
Despite the declines the group's one-month active subscribers still grew by 10.2% during the period and the telco now has 30.31 million customers.
One-month active M-Pesa customers increased 13.5% to 26.79 million; and one-month active mobile data customers grew 11.6% to 22.91 million.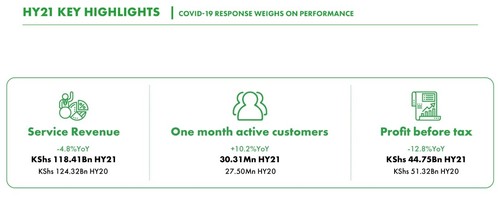 Pandemic pressure
Safaricom's acting CFO, Ilanna Darcy, admitted that the impact of Safaricom's response to COVID-19 and its decision to zero-rate M-Pesa transactions below KES1,000 ($9.18) weighed heavily on the group's first-half financial performance. It impacted service revenue and earnings before interest and tax (EBIT), which declined 10.5% to KES44.97 billion ($413 million), while the EBIT margin dropped 2.5 percentage points to 36.3%.
Even though M-Pesa revenue declined overall, the total M-Pesa transaction value grew by 32.9% year-on-year to KES9.04 trillion ($83 billion). The volume of M-Pesa transactions grew by 14.9%, to 5.12 billion transactions and the business added 3.2 million one-month active M-PESA customers YoY.
"With M-Pesa we will step up the success in Kenya by going to the rest of Africa, we are broadening our financial services portfolio, evolving M-Pesa into a broader financial platform that becomes a lifestyle choice, especially for our SMEs with products around wealth management, insurance, credit and savings amongst other propositions," Ndegwa said during his results presentation
"We are keen to set up operations beyond our borders, into Ethiopia, subject to the relevant regulatory approvals ," he added.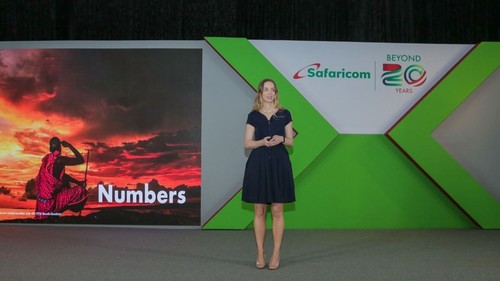 The group also saw sustained double-digit growth in mobile data, and active 4G devices grew 56.0% year-on-year, while 4G devices using more than 1GB in the network grew 60.6%.
"The business aims at driving data affordability by encouraging in bundle usage and data democratization through ensuring affordable 4G handsets in the market, and access to them through initiatives such as our device financing programme," the group said.
Fiber-to-the-home (FTTH) was another bright spot, with FTTH revenue growing 47.2% YoY and penetration of homes passed now over 53%, as more Kenyans were forced to work from home.
"The most immediate and dire impact continues to be how the pandemic will play out in Kenya, its economy and the consumer wallet, especially with the recent spike in infections being recorded in the country," Ndegwa said.
*Top image is of Safaricom CEO Peter Ndegwa. (All images courtesy of Safaricom).
— Paula Gilbert, Editor, Connecting Africa