5G in Africa is inevitable, but not imminent – GSMA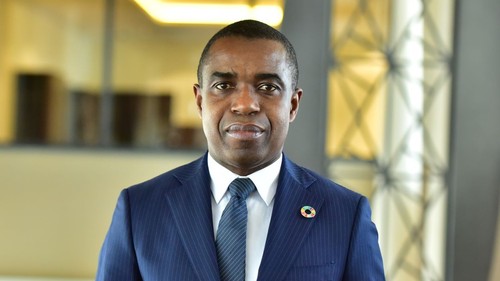 5G is coming to the African continent, but not anytime soon, according to GSMA Africa Head Akinwale Goodluck, who was speaking during a virtual media event with African journalists.
"5G is inevitable for us in Sub-Saharan Africa, but it is not imminent," he said.
"5G is going to be a big enabler for the economy. 5G will drive efficiency in a lot of complex operations, but for us in Sub-Saharan Africa, we still need to get quite a few things right before we can roll out 5G," Goodluck said.
However, he still believes that 5G will ultimately be "a big game changer" globally and also for those who live in Sub-Saharan Africa (SSA).
"I think historically Africa has done pretty well in terms of leapfrogging – we have had the benefit and opportunity of learning from other jurisdictions as a new standard is implemented. I think 5G will be no different," he said.
"One thing that is clear is that our 4G pipes are still relatively empty; the average across the region is still below 10%, in terms of throughput, so there is a lot of work still to be done in terms of filling up the 4G pipes and rolling out the 4G networks. [After that] 5G will come."
According to statistics from GSMA, which represents the interests of around 750 mobile operators worldwide, in 2018 SSA's mobile Internet users only made up 23% of the population. GSMA projects this will rise to 39% in 2025. It also predicts that by 2025, smartphones will make up 66% of all connections in SSA.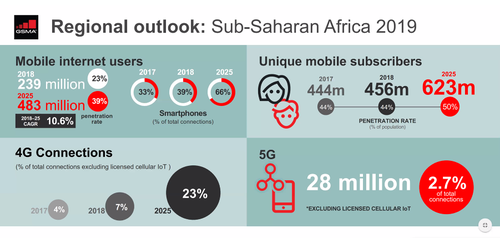 "The bottom line for us in Sub-Saharan Africa is that by 2025, we will see about 28 million devices connected to a 5G network. That's still probably a small amount of total connections in Sub-Saharan Africa [only 2.7%], but it's a good start," Goodluck explained.
When it comes to 4G adoption as a percentage of total connections, he said there was still a lot of room for growth, with only around 7% average adoption across the region (although some countries like South Africa have adoption levels of over 20%).
"We have the capacity on the ground, we are building ten-lane highways, but we are only riding bicycles on those highways. So there is a lot of work to be done in addressing the challenges and barriers to Internet adoption," Goodluck said.
He highlighted that by the end of 2019, 3G connections had for the first time outstripped 2G. The GSMA believes that by 2023, 4G connections will surpass 2G connections as well, while 5G will begin to join the party slowly from 2020, but by 2025 it will likely only make up about 3% of total connections in SSA.
"Interestingly, we see there are more and more 4G deployments across Sub-Saharan Africa and recently we've seen a lot of the governments in Sub-Saharan Africa re-tweaking their broadband plans and actually moving from 2G to 4G [rather than] going from 2G to 3G," he said.
When it comes to 5G, Goodluck said that power remains a significant challenge: "5G is not going to run on generators; you must have real power capability."
"We also have a lot of work to do in terms of sensitization and to help alleviate anxiety around some of the myths and untruths that have been created about 5G recently," he said, alluding to the recent trend of unfounded conspiracy theories that COVID-19 was caused by 5G.
"I think that when 5G first comes to Africa it will be more for the enterprise market as opposed to the retail consumer market," he said.
Ultimately Goodluck thinks that African governments need to first "aggressively drive the rollout and the adoption of 4G."
"As markets become more sophisticated, demand will help government to put in the right policies to support 5G," he said.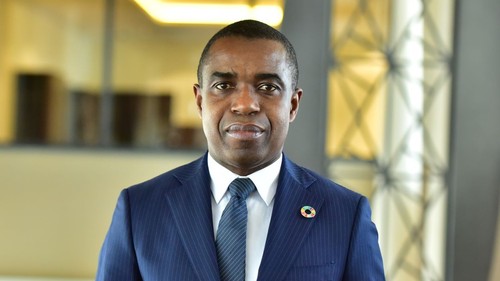 — Paula Gilbert, Editor, Connecting Africa