How much MTN execs get paid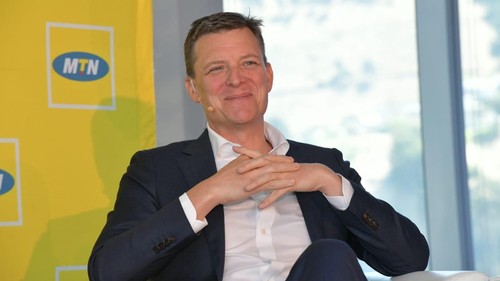 MTN Group CEO Rob Shuter made R58.2 million ($3.3 million) in 2019 while Group CFO Ralph Mupita took home a massive R66.3 million ($3.7 million).
The remuneration packages for the pan-African telecom operator were revealed in its Integrated Report for the year ended December 31, 2019, published on Tuesday.
Shuter's total remuneration was a 35.7% increase on a year ago when he made R42.9 million ($2.4 million). Shuter's 2019 remuneration was made up of a base salary of R17.3 million ($961,000), post-employment benefits worth R1.8 million ($101,200), R1.1 million ($61,100) in "other benefits," R27.6 million ($1.5 million) in bonuses and another R10.4 million ($578,000) in long-term incentives, which vested in December 2019.
Last month MTN announced that Shuter would be stepping down as CEO at the end of March 2021, after four years at the helm of the telco. (See Rob Shuter to step down as MTN CEO in 2021.)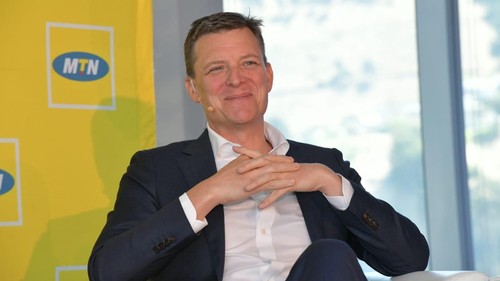 Mupita's 2019 remuneration was a 194% increase on 2018. In fact, the R65.5 million ($3.64 million) that Mupita and Shuter made combined in 2018 was less than the R66.3 million ($3.7 million) Mupita made in 2019.
His base salary was just R9.2 million ($511,000), but a huge chunk of his total remuneration came from R42.7 million ($2.37 million) in "other benefits." The small print shows this was a "cash-settled share-based payment incentive" in lieu of unvested stocks or equity relinquished upon resignation from his previous employment. Mupita joined MTN in April 2017 from Old Mutual, where he was CEO of Emerging Markets.
The CFO also received R1.06 million ($58,880) in post-employment benefits and R13.4 million ($744,000) in bonuses.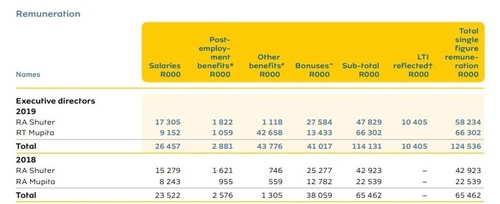 MTN South Africa CEO Godfrey Motsa's total remuneration for 2019 was R15.7 million ($870,000). This included a R7.3 million ($405,000) base salary and R6.8 million ($378,000) in bonuses. MTN Nigeria CEO Ferdi Moolman took home a total of R21.09 million ($1.17 million), of which R9.6 million ($530,000) was his base salary and R8.1 million came ($450,000) in bonuses.
Ismail Jaroudi, vice-president of MENA (Middle East and North Africa), made almost R25 million ($1.4 million); Karl Toriola, vice-president of WECA (West and Central Africa), took home R19.1 million ($1.06 million); and Ebenezer Asante, vice-president for SEAGHA (Southern and East Africa and Ghana), made R23 million ($1.3 million) in 2019.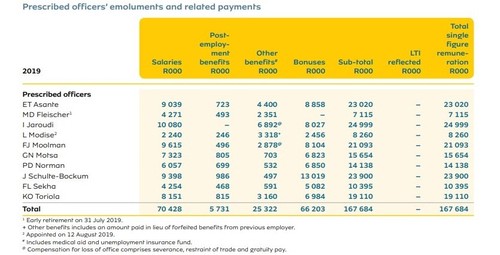 — Paula Gilbert, Editor, Connecting Africa