Safaricom pens cloud deal with AWS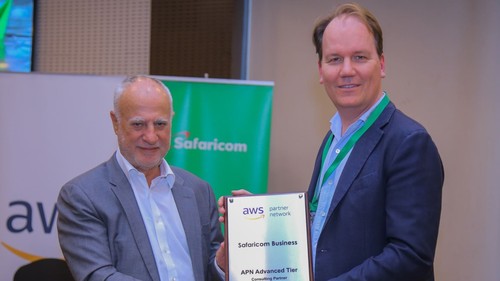 Telecom operator Safaricom plans to accelerate cloud adoption in Kenya and across the East African region through a partnership with global cloud giant Amazon Web Services (AWS).
The two groups have signed a strategic agreement which will see Safaricom become an AWS customer and also a reseller of AWS services in East Africa.
"We chose to partner with AWS because it offers customers the broadest and deepest cloud platform, overall commitment to security excellence, and a strong culture of customer obsession. This agreement will allow us to accelerate our efforts to enable digital transformation in Kenya," said Michael Joseph, CEO of Safaricom.
The agreement will help accelerate Safaricom's internal IT transformation, lower costs and provide it with a blueprint and skilled resources to assist customers with their journey to the cloud.
Joseph said that when looking at Safaricom's three-year strategy, providing data center and cloud computing services to enterprises is a big part of the revenue growth strategy for the telco.
Africa's first AWS data centers are expected to land soon as AWS prepares to open its infrastructure region in South Africa in the next few months. (See AWS Plans Further Cloud Investments in South Africa and AWS aims to upskill developers ahead of regional cloud launch.)
Each AWS region has multiple "availability zones" and the new AWS Africa region in Cape Town will consist of three availability zones. The global AWS Cloud currently spans 69 availability zones within 22 geographic regions around the world, with announced plans for another five regions, including Cape Town.
East African customers will likely take advantage of the Cape Town region once it is up and running as it will be the only AWS region on the continent for the foreseeable future.
Safaricom also announced the attainment of Advanced Consulting Partner status in the AWS Partner Network (APN), becoming one of the first APN members in East Africa. The APN is the global partner program for technology and consulting businesses that leverage AWS to build solutions and services for customers.
Safaricom said the deal has already generated customer interest, with enterprises, startups and government agencies already expressing a desire to use the partnership to build their cloud strategy.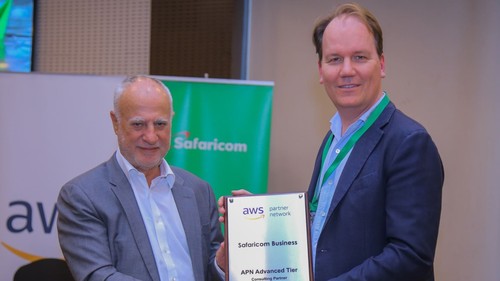 East African expansion
Amazon Web Services' managing director for emerging markets, Tony van den Berge, said the company already has two offices in South Africa and has expansion plans for the continent, with an office in Kenya in the pipeline.
"[Because] we are not here yet ... we need partners that are really inside society and touch basically every consumer, every enterprise, in every village, and that is why we are excited to partner with Safaricom", Van den Berge said at the launch event in Nairobi.
Van den Berge added that Safaricom and AWS "will jointly innovate," and one of the applications they will work on together is the successful DigiFarm application.
The DigiFarm platform provides smallholder farmers with digital access to a variety of services, including discounted inputs, financing and advice on best farming practice from a 2G enabled mobile phone. Over 1 million farmers have already subscribed to the platform and it has more than 300,000 30-day active customers.
Just this week, DigiFarm won the Best Mobile Innovation for Emerging Markets at the 2020 Global Mobile (GLOMO) Awards.
— Paula Gilbert, Editor, Connecting Africa