Africans suffer poor voice app experience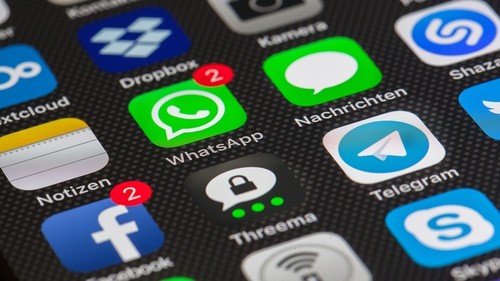 Africa is lagging behind when it comes to voice app call quality of experience, according to a new report from mobile analytics company Opensignal.
The company's new State of Mobile Voice App Experience Report measures the quality of over-the-top (OTT) voice services experienced by consumers when they communicate using mobile voice apps such as WhatsApp, Skype, Facebook Messenger, etc.
The nine African countries analyzed all featured in the bottom half of the global list. Opensignal's Voice App Experience metric is calculated as a score from 0 to 100, with 100 being the best voice app experience possible, using a model derived from the International Telecommunication Union (ITU)'s voice quality metrics. (See the score breakdowns at the bottom of the article.)
"Voice apps such as WhatsApp, Skype and Facebook Messenger offer an entirely new platform for users to call each other, bypassing the traditional cellular channels and offering a true online experience," the report reads. "Voice apps offer flexibility across a number of devices and networks, and have soared in popularity as smartphones become more and more ubiquitous."
According to Opensignal, WhatsApp has an estimated 1.6 billion users worldwide, Facebook Messenger boasts 1.3 billion, while Skype has an estimated 300 million users (including its paid-for Skype for Business arm).
Opensignal said that as voice apps grow in popularity, their performance will contribute to a customer's overall satisfaction with their network provider.
The group analyzed communications in 80 countries across the globe, using its base of more than 57 billion measurements from over 23 million Android and iOS smartphones, to see how users' Voice App Experience compares in different mobile markets. The data was collected between June 1 and Aug 30, 2019.
Europe dominates while Africa lags
Europe dominated the top of the list, while the African nations where measurements were taken -- Tunisia, Libya, Egypt, Morocco, Nigeria, Algeria, Ghana, Kenya and South Africa -- all featured in the bottom half.
The highest African ranking came from Tunisia, with a score of 73.5 followed by South Africa with a score of 72.5. This still puts both in the "Poor" category, along with Egypt (71.4), Morocco (70.1) and Nigeria (67.4). Meanwhile, Algeria (63.6), Ghana (62.6) and Kenya (61.2) all ranked as "Very Poor," while Libya (56.5) was the second worst country globally -- after Uzbekistan (56.1) -- with an "Unintelligible" ranking.
Opensignal found clear evidence of a global divide between more mature countries, fast growing ones, and developing countries when it comes to Voice App Experience.
"None of the European markets we analyzed scored less than an 'Acceptable' ranking, while the vast majority of the African and Middle Eastern nations rated 'Poor' or lower. This pattern was mirrored in the Americas, where the US and Canada ranked 'Acceptable,' while barely a third of the Latin American markets (including Brazil) we analyzed achieved this rating," the authors said.
Hardik Khatri, technical analyst at Opensignal, told Connecting Africa that of the nine African countries analyzed in the report, "the majority of them stacked up on the lower half of our charts."
"We saw a wide range of scores in this region... with most of them concentrated in the 'Poor' and 'Very Poor' bracket," he added.
Opensignal found that of the 19 countries which achieved a "Good" rating (80 to 87), only six were from outside Europe. And all of these six were relatively highly-developed Asian markets, including Singapore, South Korea and Taiwan.
Among the European countries that gained a "Good" ranking in Voice App Experience were some of the most mature mobile markets, including Belgium, the Netherlands and Denmark, as well as some smaller markets like Slovakia, Croatia and Serbia. Interestingly, none of the "big five" European countries -- France, Germany, Italy, Spain and the UK -- gained "Good" rankings, with all of these in the "Acceptable" bracket (74–80).
Asia was a different story, with countries ranking all the way from "Good" to "Unintelligible."
4G rules for voice calls
Opensignal found that 3G-only Voice App Experience scores were much lower than 4G scores in every country. Over a third of the countries analyzed ranked as "Good" or above for 4G Voice App Experience. This was over 50% more countries than rated "Good" for overall Voice App Experience.
But most of these countries gained "Acceptable" 3G ratings. At the other end of the table, all the countries that ranked "Poor" or below for 4G Voice App Experience rated "Very Poor" or lower for 3G.
"When we look at Voice App Experience by technology, users in all African countries enjoyed a better experience while using OTT voice app services (like WhatsApp and Skype) on their smartphones when connected to 4G," Khatri said.
Middle Eastern countries like Jordan, Qatar and Israel ranked better than their African peers, but Egypt, Tunisia, Nigeria, South Africa, and Morocco gained an "Acceptable" ranking based on their 4G Voice Experience app scores.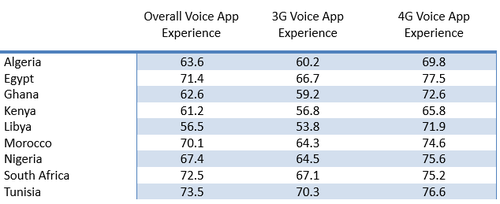 "This shows how invested the mobile network operators in Africa are in their LTE networks," Khatri explained.
Opensignal's Voice App Experience is scored using the following scale:
0 to 100: 95-100 – Excellent – Most users are very satisfied
87-95 – Very Good – Most users are satisfied
80-87 – Good – Many users are satisfied
74-80 – Acceptable – Users are satisfied
66-74 – Poor – Many users dissatisfied
60-66 – Very Poor – Most users dissatisfied
45-60 – Unintelligible – Nearly all users dissatisfied
0-45 – Impossible to communicate
— Paula Gilbert, Editor, Connecting Africa