Safaricom Is Losing Market Share to Airtel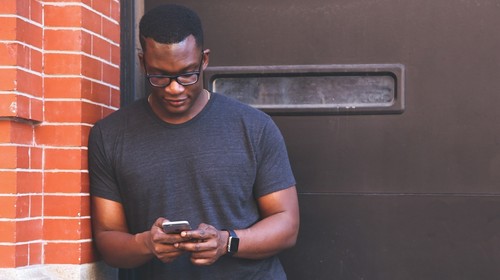 Telecoms operator Safaricom is steadily losing market share in Kenya, with its slice of the market dropping to levels last seen in 2012.
This is according to the latest statistics from the Communications Authority of Kenya (CA), which show that Safaricom's market share in the country fell to 63.5% by the end of June 2019, compared to 65.4% at the end of June 2018. By comparison, rival Airtel was gaining traction, with a market share of 24.6% in June 2019, its highest ever, up from 21.4% a year before.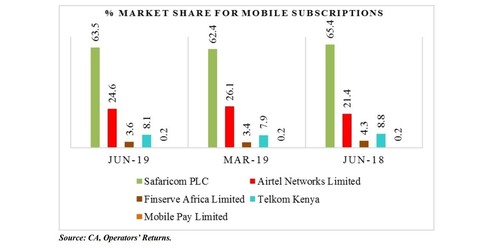 According to statistics from market research company Ovum, this is the lowest that Safaricom's market share has been at since mid-2012. Meanwhile, Airtel's market share has more than doubled since mid-2010, when it was sitting at around 9%. Safaricom's market share has remained above 63% for almost a decade, and was as high as 76.3% at the end of June 2017.
The Communication Authority's sector statistics report for the three-month period April–June 2019 shows that Safaricom is still by far the market leader in the country, with almost two thirds of all Kenya's mobile customers. It is followed by Airtel, which commands almost a quarter of the market, and then Telkom Kenya, with a market share of 8.1%. Finserve Africa has a market share of just 3.6%, while Mobile Pay has a tiny 0.2% market share.
Overall, at the end of June 2019, the number of active SIM cards in Kenya stood at 52.2 million, up from 51 million at end of March 2019. This equates to a SIM card penetration level of 109.2%.
Of the 52.2 million total active subscribers, about 33.1 million belonged to Safaricom. The huge majority of the operator's subscribers are prepaid users, at around 31.7 million, while just under 1.4 million are contract customers. This is a similar trend with the other operators, with next biggest player Airtel servicing a total of 12.8 million users, 12.7 million of which were prepaid users.

Over the three-month period Safaricom actually gained subscribers from 31.8 million at the end of March 2019 to 33.1 million at the end of June, the authority reported. The operator has steadily been adding subscribers from about 16.2 million at the end of June 2010, according to Ovum statistics. However, gains from other operators, and more Kenyans having access to cellphones in general, has seen Safaricom losing market share despite still adding subscribers.
The CA said that it estimates that at least 96% of the Kenyan population is now covered by a mobile network.
The country has always been a trailblazer when it comes to mobile money services. As of June 30, 2019, the number of active mobile money subscriptions in the country was 32.6 million, with over 290,000 mobile money agents in operation. According to the authority, a total of 810.9 million transactions valued at KES 2.1 trillion (US$20 billion) were recorded during the quarter.
Safaricom's M-Pesa remains the market leader by far with 26.9 million active mobile money subscribers at the end of June. Airtel Money followed with almost 3.7 million mobile money users and then Equitel Money with 1.9 million. Smaller players Tangaza and T-Kash had about 94,400 and 76,000 users respectively at the end of June, according to the Communications Authority of Kenya .
— Paula Gilbert, Editor, Connecting Africa