Africa Should Capitalize On a 'Demographic Dividend'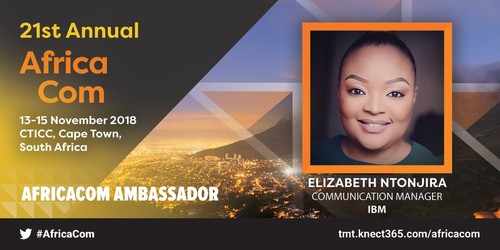 With just a few weeks to go until
AfricaCom 2018
, Connecting Africa has been speaking to some of the AfricaCom Ambassadors, a group of 30 leaders and innovators from across the continent with unique stories about Africa's digital transformation.
Elizabeth Ntonjira, Communication Manager for Central, East and West Africa at IBM, was awarded this year's 'International Woman in Tech' award at the prestigious Women4Africa Awards for her work at IBM in communicating the latest tech trends, research and innovation to the East African market.
Connecting Africa: Tell us a bit about your background and experience.
Elizabeth Ntonjira: I'm currently the IBM Communication Manager for Central, East and West Africa leading external communication activities supporting business issues of major consequence to IBM and the business units in 25 sub-Saharan countries, as well as acting in a consulting capacity, providing communication advice and counsel to executive line management. My background has been in strategic communications, managing and overseeing media relations, public affairs campaigns, outreach programs, branding and social media strategies, policy facilitation and advocacy. I have gained this experience within a number of roles in the public, private and international development sectors spanning over 10 years. I began my career when I was pretty young: At 18, I was a regular columnist with one of the largest media houses in East and Central Africa; At 19, while I was pursuing my law degree, I began my career in TV on one of the local Kenyan TV stations.
In my current capacity, I'm tasked with developing communication plans and strategies, I collaborate on the messaging architecture that helps IBM's mission, and help arm the sales and business partner organizations with messages and success stories that promote IBM's leadership in Sub-Saharan Africa.
CA: What excites you most about working in the African tech sector?
EN: The world has changed and continues to change rapidly due to globalization and technological advancements. For instance, Sub-Saharan Africa continues to lead the world in the adoption of mobile money services, with more than one fifth of mobile connections in the region linked to a mobile money account. The workforce in the West seems to be shrinking, while it's rapidly growing in Africa. With so many of the world's youth concentrated in Africa, countries have the advantage of a large working-age population and should be looking to capitalize on a 'demographic dividend,' and I see a huge opportunity for this in the tech industry. Besides that, I'm passionate about telling African innovation stories. There is so much potential and so many opportunities that we can and should leverage to solve some of Africa's challenges.
CA: What changes do you think we need to see to boost equality and inclusion of women in the tech sector?
EN: What I've seen is that over time… the many initiatives that encourage girls to take up STEM [Science, Technology, Engineering and Mathematics] and tech-related subjects are beginning to bear fruit. Encouragingly, more and more girls are taking up STEM subjects. This will not only shore up the number of women working in technical field, but will also ensure diversity in the sector. Tech is a hot sector at the moment and it is exciting to see more women getting involved. Beyond the technical aspect of technology, I think there is also an important place for non-technical skills like mine -- expertise in new media, social media strategy, online business models, digital marketing, e-commerce, gadgets, and Information Technology infrastructure, which are all essential to the technology ecosystem. These are also important skills and it is important to assist the youth access training and educational opportunities in these fields too.
CA: In your opinion, what kinds of technology are going to be the most disruptive in Africa?
EN: Product innovation, process innovation and business model innovation. Business model innovation is a sweet spot. It appeals to both cost and convenience aspects of disruptiveness, which are key! So, I'd say cloud is already disrupting the region by giving cash-strapped startups and individuals cost-effective access to tech, as well as convenience of access from wherever, whenever, with global scalability in-built. This is true with industry-based cloud platforms such as the IBM cloud, which supports cutting-edge tech such as containerization, Kubernetes, Cloud Foundry, as well others across IaaS, PaaS and SaaS solutions.
Other technologies such as blockchain, cognitive computing, IoT, mobile and event-driven serverless architectures are also set to disrupt the continent.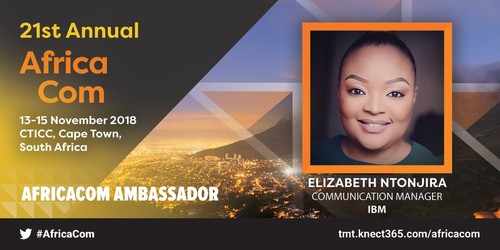 There's still time to book your pass to Africa's largest tech, media and telecoms festival, AfricaCom, taking place in Cape Town, 13-15 November 2018. Book now!
— Gabriella Jeakins, Digital Content Marketer, KNect365, for Connecting Africa.