SD-WAN and satellite Ė how MNOs and telcos can enjoy the best of both worlds
Software-Defined Wide Area Networking (SD-WAN) is an advanced software-based networking technology that enables telcos, mobile network operators (MNOs) and enterprises to add resiliency, efficiency and simplify complexity of their WAN links.
Today's demand for network availability, agility, and scalability leads MNOs and telcos to operate multiple access links for redundancy and load balancing which introduces a range of critical networking challenges.
The challenges mainly occur due to complicated processes of bandwidth management and traffic prioritization. These challenges are amplified in scenarios where several access link types exist (fiber, microwave and satellite), each having different capacity characteristics.
SD-WAN handles the above-mentioned challenges by allowing intelligent traffic routing among the available links without human intervention.
Spacecom is one of the first satellite operators to provide a satellite-based SD-WAN solution. Combining SD-WAN, terrestrial and satellite links, strengthens network resiliency and service availability, enables business continuity, offers flexibility and improves customer satisfaction.
The combined solution mitigates network complexity by:
Managing all access links from the cloud or central location
Dynamically steering traffic based on applications or link load
Reacts to link failures by seamlessly routing traffic, according to pre-defined priorities.

So what are the main benefits this solution offers?
Optimal resource utilization by smart traffic steering, based on the user application, real-time link load, latency, packet loss and bandwidth costs.
Simplifying network management by using cloud-based, central management of routing, security, QoS, traffic priorities, load balancing and zero-touch provisioning of remote equipment, for quick and simple deployment and maintenance.
Maximum bandwidth utilization of all physical links by logically combining them into a single, shared and managed resource.
Improved user experience and customer satisfaction by mitigating packet loss and packet mis-order through advanced mechanisms.
High network resiliency by dynamically and seamlessly routing traffic to redundant links in case of link failure.
Proactive operations rather than reactive due to high-level visibility of network behavior.
End-to-End security by mitigating security concerns building 256-bit encrypted tunnels, edge-to-edge, between every site in the SD-WAN.

Spacecom provides its services via the advanced AMOS-17 High Throughput Satellite, specially designed for the African market, holds powerful C-band beams best suited for cellular networks and local Telcos. Moreover, its superb location at 17E degrees, right over the heart of Africa, allows a perfect looking angle and the lowest latency performance of a satellite in the African region.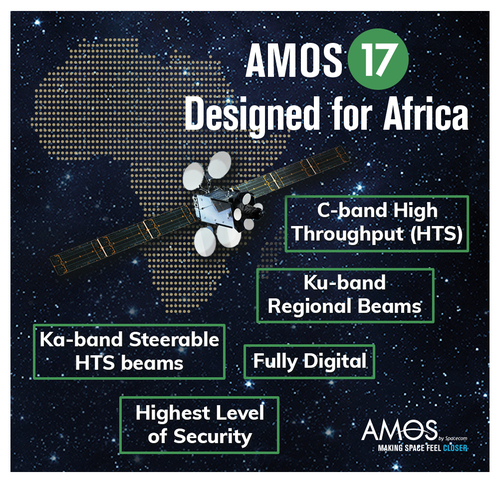 The main takeaway for telcos and MNOs
Satellite links, which have superior service availability, are most suitable for increasing network diversity to maintain high quality of service.
Combining Spacecomís AMOS-17 digital HTS satellite with its SD-WAN solution allows telcos and MNOs to enjoy the best of both worlds.
The main takeaway for domestic and international enterprises
Mitigating network complexity by using a central management system and low to a zero-touch provisioning process. It also optimizes application performance due to smart steering, compression, acceleration, forward error correction, Packet Order Correction and guaranteed best-in-class user experience.
Spacecomís SD-WAN is the latest innovation under its managed services portfolio.
Spacecom, a global satellite service provider, also offers its customers and partners a number of added-value services such as turnkey projects, B.O.T projects, managed services, end-to-end network planning and deployment including Satcom, networking and power solutions.
— Ofer Asif, SVP BizDev, marketing and strategy at Spacecom
This content is sponsored by Spacecom.