The Developer Economy & How to Increase Customer Retention: Nigeria Com Interview With MTN Nigeria's Adedamola Ibironke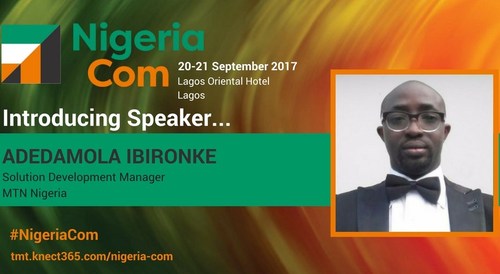 Ahead of Nigeria Com 2017, Connecting Africa has been profiling some of the most influential figures in Nigeria's technology and telecoms sectors.

With the countdown to the 9th annual event underway, Connecting Africa caught up with Adedamola Ibironke, solution development manager at MTN Nigeria, to discuss the emerging trend of content co-creation in digital markets, as well as the role partnering can play in advancing businesses through facilitating relationships.

Connecting Africa: We're excited to welcome you at Nigeria Com, where you will be speaking about content co-creation. How have you seen this evolve in the last three to four years?

Adedamola Ibironke: Content creation has evolved from an internal R&D team focused strategy to a crowdsourced and an open innovation strategy. Customer and partner engagement now plays a major role in solution development -- the old method of imagining solutions and taking to market without proper market insight that proffers a solution that addresses customer needs has been "hurricaned."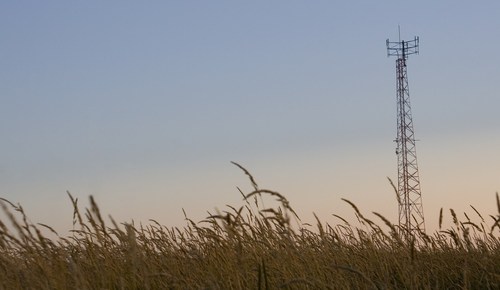 Connecting Africa: To what extent does partnering in the sector accelerate the creation of jobs for local startups?
Adedamola Ibironke: Strategic partnership plays a vital role in empowering local startups, the need for synergy between industry stakeholders (operators, VAS providers, startups, regulation, and financial institutions) is critical to the delivery of successful and monetizable contents. Mobile operators create the right platform that enables the ecosystem for content creation, distribution, monetization and job creation for startups.
Connecting Africa: Delegates will hear you discuss how telcos can maintain key customer relationships. What are some of the social challenges of maintaining such relationships through partnerships?
Adedamola Ibironke: One of the major challenge is the "trust" issue between relevant stakeholders. Recently we had to implement "double opt in" [DOI] on all payment API-related transactions. DOI implementation is meant to address cases of unapproved deduction from customer accounts for services customers did not subscribe to or that they subscribed to but did not give approval for recurring deduction.
Connecting Africa: Industry stakeholders can contribute towards customer retention rates as well as job creation. What is the most recent solution that has been successfully implemented?
Adedamola Ibironke: Customer retention is actually hinged on the capability of the service provider to create a unique customer experience that delivers on the promised value proposition to the customer. The need for customer self-service, omni-channel access and automation of service fulfilment in a digitized manner led to the delivery of a number of customer engagement channels. The self-care portal, mobile application for account management, website chat and online customer support, USSD-based service subscription management, online payment are some of the solutions recently developed to empower our customers.

Connecting Africa: How is MTN Nigeria contributing towards stimulating the developer economy?
Adedamola Ibironke: We are committed to the empowering of the developer community in Nigeria; we have developed a cloud service portal where developers can subscribe to various IaaS, PaaS, DBaaS and SaaS offerings. This takes away the need for FOREX dependence and burden to subscribe to these services on other international cloud service providers. Other developer-tailored solution offerings are also in the pipeline of solutions to be delivered.
Connecting Africa: What are you hoping to take away from Nigeria Com, and who are you most hoping to connect with?
Adedamola Ibironke: I hope to meet other like minds in the industry and explore ways of co-creating solutions that will transform the lives of Nigerians. One such is the creation of a unified communications platform as a service where all operators expose their APIs for developers and startups to create solutions seamlessly on all operator networks without need for separate integrations.
Connecting Africa: Have you attended Nigeria Com before, and would you recommend attending to others in the sector?
Adedamola Ibironke: Yes, I have and will always recommend the event.
Connecting Africa: What can we expect to see MTN Nigeria do next?
Adedamola Ibironke: MTN will continue to explore avenues to make the lives of our customers brighter through innovative solutions tailored to their immediate and future needs.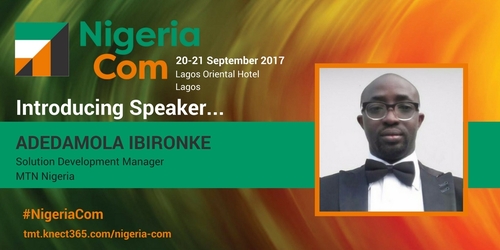 Nigeria Com is taking place between September 20-21 at the Lagos Oriental Hotel, Lagos. Find out more about how Nigeria Com is strengthening the networks and ICT of 'Digital Nigeria' here.
View the Nigeria Com agenda and speaker line-up here and book your delegate passhere.
Be part of the African tech and telco conversation here:
Twitter
Facebook
LinkedIn
Instagram
— Rachael McKie, Connecting Africa Writer