Feature Phone Popularity Surges as African Mobile Market Outgrows US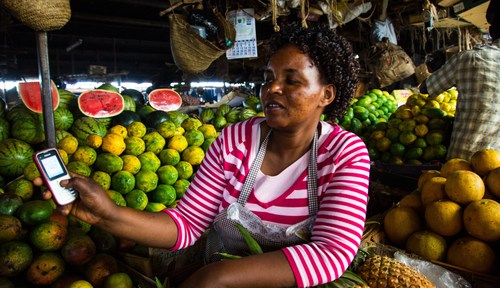 The popularity of feature phones is on the rise following a tough third quarter for smartphone sales, according to figures from industry research firm
Counterpoint Research
.
According to Counterpoint, African handset sales now represent a larger market than either the US or Latin America. This could be down to a resurgence in feature phone popularity amid macroeconomic challenges and weaker economies in key territories, including Nigeria. Feature phone sales grew 14% year on year (YoY), while the overall market for mobile phones grew by 6%.
Conversely, smartphone sales across the continent grew just 2% in comparison, despite considerable growth in some key markets, including Algeria (53%) and Kenya (178%). However, a near 20% decline in sales in the influential Nigerian market led to a lower-than-expected growth in the third quarter of 2016.
While the numbers on the whole are certainly encouraging, the latent potential for Africa to become one of the world's biggest markets continues to be unfulfilled. According to Counterpoint, the continent's mobile phone user base is still less than 50% of the total population. While a number of economic challenges exist, which appears to have influenced buying decisions, the opportunity for significant handset sales growth is still significant.
With the re-emergence of Nokia-branded phones, it will be interesting to see how the new brand license owner, HMD Global, will approach the African market. Nokia still features in the top five most shipped mobile phone brands in Africa, holding 6% share of the entire handset market in the third quarter of 2016, including 12% of the feature phone market.
The reinvigorated Nokia brand is due to launch during this quarter and there is significant scope for HMD to target Africa with its range of affordable feature phones -- the Nokia 150 and 150 Dual models are set to be available at less than US$30 per device.
While the impact of the 'Nokia factor' is still an unknown, iTel is certainly making its mark -- it overtook Samsung to become the most-sold handset brand across the continent in the third quarter. Sales of iTel units grew 50% year-on-year to capture 20% of the total handset market. Meanwhile, Samsung's shipment market share declined from 29% to 19%.
In fact, iTel's parent company, Transsion Holdings, had a remarkable quarter, as three of its brands seized a significant portion of the market. iTel, Tecno and Infinix gained 34% of the total handset market, while being active in 11% of the smartphone market and a whopping 60% of the feature phone market.
Elsewhere, Huawei featured in the top five list of handset vendors despite having a smartphone-only portfolio. One of every two mobile phones shipped in Africa were smartphones, despite the rise in feature phone popularity, while one in three smartphones shipped in Africa is now LTE-compatible.
The full sales breakdown can be seen below: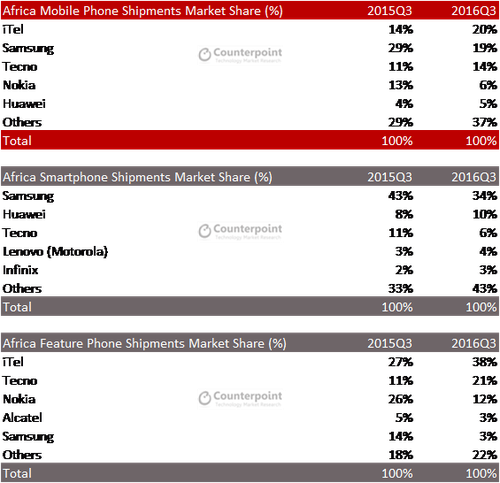 — Tim Skinner, Editor, Connecting Africa