Tech Tackling Malaria – #WorldMalariaDay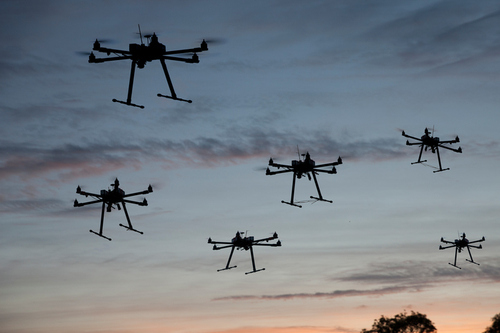 Since 2000, there has been a dramatic 60% drop in malaria deaths worldwide, yet mosquitos still remain the most dangerous animal in the world, responsible for around
400,000 deaths annually
. To mark World Malaria Day, we take a look at some of the major strides m-health and technology have made in Africa in ending malaria for good.
Drones:
In one of boldest use of drones seen to date, Microsoft has commissioned a fleet of drones to hunt down and capture mosquitos. Microsoft's Project Premonition aims to find mosquito hotspots by drone, scanning vast areas with ease, and then trapping them using bespoke robotic mosquito traps. Unlike other insect traps, these traps have the capacity to distinguish between mosquitos and other insects, using its 64 smart cells, which monitor specific wing movements. Once the insect has been identified as a mosquito, the cell door closes, trapping the mosquito inside and tagging it with key environmental informational data for pathogen research.
Satellites:
In South Africa, academics at the University of Pretoria are harnessing satellite data to predict eminent malaria outbreaks. The university is employing the use of geographic information systems and advanced satellite imaging to gauge the environmental factors that lend themselves towards a potential outbreak. This satellite data acts as an early warning system for potential malaria threats and the model has proven correct nine times out of ten in all five South African communities in which it was trialed.
Real-time data:
The Zambian Ministry of Health has vowed to eliminate Malaria entirely by 2020, with the aid of real-time data and analytics. The Visualize No Malaria campaign in conjunction with the international health organisation PATH, analytic database developer EXASOL and data experts Tableau, seeks to empower and support health workers in the field through technology. Having access to real-time data, health workers are in a stronger position to make more informed decisions when tackling malaria outbreaks. The initiative is currently leveraging complex geospatial data loaded into the EXASOL database to model geographical features in Zambia's Southern Province, with time-series models of population density and meteorological patterns.
Smartphones:
The startup and enterprise ecosystems in South Africa have combined to harness the power of the iPhone to combat malaria. SA-based Apple reseller Digiscape and London startup xRapid have developed the xRapid iPhone app and attachment that works on both compound and field microscopes. This free app uses digital imaging technology and artificial intelligence to diagnose malaria from a magnified image of microscope blood slides. The accompanying test attachment aims to be robust in design, in order to cope with harsh climates and conditions.
New diagnostic tools:
In Uganda, after multiple bouts of malaria himself, computer Science student Brian Gitta envisioned a "mobile medical center" that could swiftly diagnose malaria without the use of blood tests. Gitta and his peers developed Matibabu, a mobile app that doesn't require blood in order to diagnose malaria. The app was first developed for the Windows platform using a custom portable finger Matiscope, where a red light detects the red blood cells in the skin. This is significant as malaria-infected red blood cells have a different physical and biomedical structure to normal red blood cells. What is more is that test results take only 15 minutes to complete, with the Matibabu device costing just $20 per unit.
Many thanks to AfricaCom media partner e Health News for collaborating on this article.
If you would like to learn more about cutting edge e-health initiatives in Sub-Saharan Africa, engage with those at the frontline of Africa's healthcare sector face-to-face at a Connecting Africa event. Find out more below.

Upcoming events:
East Africa Com May 17-18, Nairobi
West Africa Com July 11-12, Dakar
Nigeria Com September 20-21, Lagos
AfricaCom November 6-10, Cape Town
Be part of the African tech and telco conversation here:
Twitter
Facebook
LinkedIn
Instagram

— Amy Turner, Digital Content Marketer, KNect365