Tackling the Innovation Summit with Deshun Deysel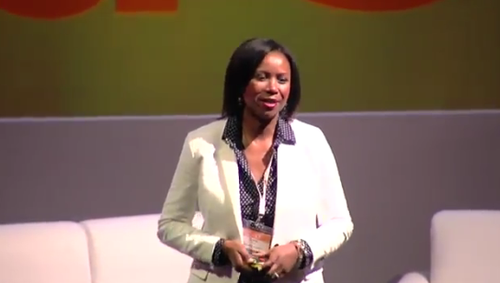 "How much can you live up to your potential? And how can technology be used to capacitate that?" These were just some of the questions posed to the AfricaCom audience by Deshun Deysel, businesswoman, mountaineer and keynote speaker at
AfricaCom
2016.
Deshun Deysel is household name in her native South Africa, being the first black woman to summit Mount Everest in 1996. She is still a renowned high altitude climber but it is her entry into the world of business and consulting where she is really gaining a foothold.
Deysel delivered her keynote address, entitled Technology Entrepreneurship – Tackling the Innovation Summit, on day 2 of AfricaCom in Cape Town, South Africa.
Deysel is now the founder of Deshun Deysel and Associates, a leadership and development consulting firm focused on corporate, youth and women leadership training. During her address, she talked about her upbringing against the backdrop of a volatile Apartheid South Africa and how this influenced her unusual choice of vocation.
This led to her summiting Mount Everest during its most documented season in one its most perilous storms on record, where she needed to coordinate the rescue effort. Speaking about her time on the mountain and reflecting on her life and inspiration, Deysel noted: "She didn't know people like her didn't do stuff like this, she had been warned that women don't do this, but she had a dream to push her to the limit and to see how far she could go with the strength she had."
Deysel then discussed pivoting into the world of business and how she "encapsulated all her thinking, all of her experience, combined with cognitive behavioural science and mountaineering experience to develop an app" for her own business and how she was able to tackle the innovation summit herself.
Watch the full LeadersIn Africa address by Deshun Deysel here:
Deysel also facilitated the ASTARS programme at AfricaCom 2016, a day-long series of session focused on equipping Africa's tech leaders of tomorrow. Check out our interview with Deshun at ASTARS 2016 here:
If you're interested in African technology innovation, then why not attend one of Connecting Africa's series of events?
Upcoming events:
East Africa Com 17 - 18 May, Nairobi
West Africa Com 11 - 12 July, Dakar
Nigeria Com 20 - 21 September, Lagos
AfricaCom 6 - 10 November, Cape Town

Be part of the African tech and telco conversation here:
Twitter
Facebook
LinkedIn
Instagram
— Amy Turner, Digital Content Marketer, KNect365