Ex-Vivendi Chairman Held By French Police Investigating Bribery Allegations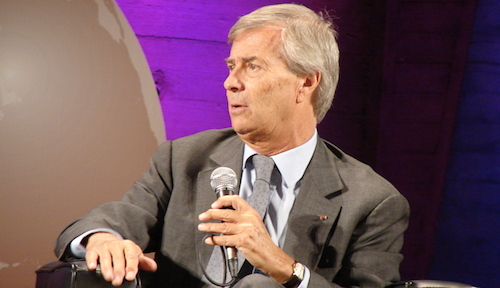 French police have reportedly detained former Vivendi Chairman Vincent Bolloré as they investigate allegations that one of his companies bribed African officials to secure port concessions.
Havas, a public relations part of the Vivendi empire, is accused of undercharging African officials for its services to secure port concessions for Vivendi in Lomé (Togo) and Conakry (Guinea).
Known primarily as a French media conglomerate, Vivendi operates a diverse array of businesses including telecom, construction and shipping firms. It is the largest individual shareholder in Telecom Italia (TIM) .
Reports from the UK's Financial Times (subscription required) and other newspapers do not implicate any of Vivendi's telecom subsidiaries in wrongdoing, but the investigation could have consequences for the Vivendi group and, at the very least, do reputational damage to it.
While Bolloré resigned as chairman of Vivendi last week, his successor is none other than his son Yannick, who also runs the Havas subsidiary under investigation.
Havas was formerly a part of Bolloré Group, the biggest shareholder in Vivendi, but it was transferred to Vivendi last year.
---
For all the latest news from the wireless networking and services sector, check out the dedicated mobile content channel on Light Reading.
---
In a statement, Bolloré Group said that it was under investigation for activities in Guinea and Togo dating back to 2009 and 2010. It has vehemently denied any wrongdoing and says the investigation is the result of a claim filed by a former employee who is serving time in prison for misappropriation of Bolloré Group assets.
It insisted that its SDV Africa subsidiary "did not engage in any illegal activities and the Bolloré Group reaffirms that these communications services were conducted in full transparency."
Shares in Bolloré Group lost 6% of their value in Paris on Tuesday and were trading down 2.8% today at the time of publication.
— Iain Morris, International Editor, Light Reading