Safaricom Pumps Up Its FTTH Plans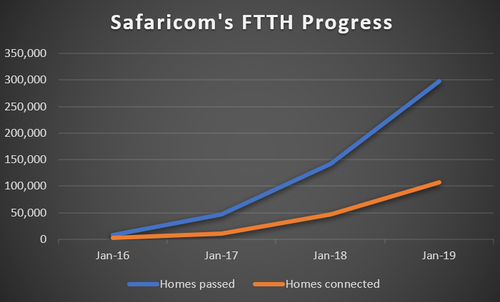 In a country where mobile data is king, selling fixed line broadband is always going to be a challenge. That's why Kenya's Safaricom decided that, if it was going to try, it would at least offer a fiber-based broadband service that would enable its customers to do things at home that they couldn't do while out and about on their mobile devices.
The operator set out its fiber-to-the-home (FTTH) plans in 2017, linking the move to its efforts to offer high-quality TV and smart home services, and has been investing in fiber rollouts at the same time as it has been expanding its 4G mobile broadband coverage. It's idea is that customers will "snack" on their mobile devices and "feast" on their fixed home broadband connections. (See Safaricom Rolls Out FTTH, Eyes Smart Home Opportunity.)
The move has been a success, at least in its initial stages, as the chart below shows. Safaricom knew there was a sub-set of the Kenyan population with enough disposable income to spend on higher-priced communications services and appears to have attracted those users, with more than 107,000 FTTH customers signed up by the end of March this year and more than 300,000 homes passed by its fiber access cables (giving it an uptake rate of more than 35%, a very creditable metric).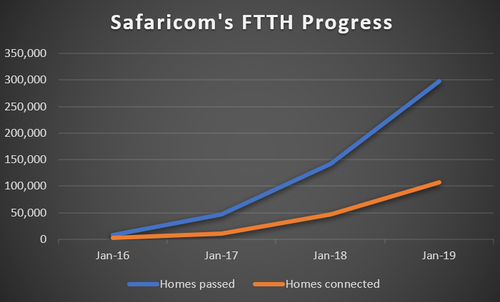 Now, to attract the next wave of FTTH customers, the operator is offering a two-month 50% discount for customers that sign up to Safaricom's premium broadband services during August and September as it continues to roll out its fiber access network in Nairobi, Kisumu and Mombasa.
"Safaricom Home Fibre is a proposition that we began offering just over two years ago and this has been a new experience for most of our customers," stated CEO Michael Joseph in a company announcement. "As a result, we have designed the 50% discount to appeal to those who would like to experiment and try out the service. We continue to record remarkable growth driven by demand for unlimited entertainment, working at home [and] home CCTV, among other emerging customer needs," he added.
Even with the 50% discount, the short-term lower prices are still relatively high in a country where the average monthly wage (before tax) is about 60,580 Kenyan shillings (US$587.10) according to the Kenya National Bureau of Statistics: For example, a Gold FTTH subscriber, getting up to 20 Mbit/s downstream (which is a low-ball proposition over any sort of fiber connection), will pay 2,849 Kenyan shillings ($27.61) per month during the discount period. But in October, those new customers will go back to the full price of KES 5,699 ($55.24).
Will two months of discounts be enough to attract a substantial body of new customers? It seems like a very short period of time and there are other fixed broadband service providers for customers to turn to, including the likes of Wananchi and Jamii. But with Safaricom having grown its FTTH customer base relatively quickly during the past two years, it maybe doesn't need to be giving away too much.
— Ray Le Maistre, Editor-in-Chief, Light Reading for Connecting Africa.