Safaricom Spark Fund Backs AgriTech Startup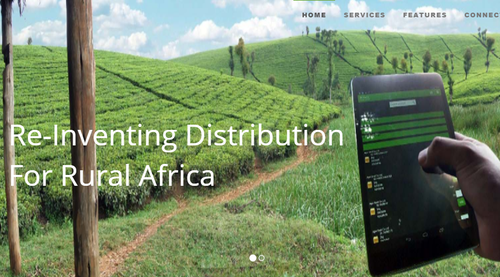 AgriTech startup iProcure has become the sixth and final African startup to be awarded investment by the Safaricom Spark Fund, which has shared US$1 million between its portfolio companies.
iProcure has developed and is running a supply chain platform in Kenya that connects farmers to the manufacturers of agricultural inputs (feedstuffs, fertilizers and permitted plant protection products permitted for use in organic farming). Farmers using the platform receive discounts of between 10% and 20% when they purchase products using the platform, which uses a mobile voucher scheme.
The investment (details of which have not been released), will enable Nairobi-based iProcure to further develop its platform and expand beyond Kenya's Central and Rift Valley regions into western and eastern Kenya. By doing so, iProcure hopes it can increase agricultural output in Kenya, which is currently hampered in parts by supply chain issues.
"At iProcure we are all about optimizing rural supply chains," said Nicole Galletta, the startup's chief operations officer. "We build both the supply chain technology in addition to 'on-the-ground' infrastructure to ensure smallholder farming communities get the inputs they require on terms that are convenient and affordable. We share an underlying belief, with Safaricom, that smallholder farmers are essential to our nationís food security, and look forward to playing our part in improving the welfare of farmers across Kenya," she added.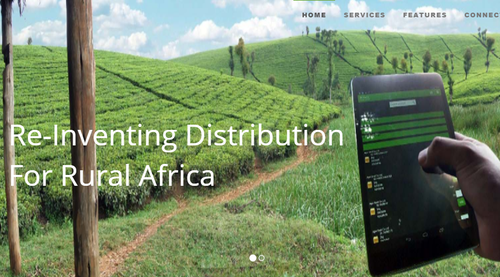 "We started the Spark Fund with the aim of supporting emerging startups that use technology to transform lives," said Safaricom Ltd. CEO Bob Collymore in a prepared statement. "As it joins the outstanding crop of Spark Fund investees, iProcure will be instrumental in harnessing the power of technology to improve Kenya's agri-business processes," he added.
Launched in 2014, the Safaricom Spark Venture Fund seeks to "make late-seed to early-growth stage investments in startups using mobile technology as an enabler," says Safaricom. The total fund of $1 million has been invested in exchange for a minority stake or provided as convertible debt -- see this explanation of the fund's goals.
In August 2015, Sendy, a marketplace for businesses and individuals to connect with drivers to make deliveries simple and transparent, became the first investee. mSurvey, a mobile-first research platform that leverages SMS and mobile messaging technology to simplify access to credible, on-demand data, became the second.
Also funded are: Eneza, a mobile-based learning platform that targets students and adults in Kenya and other countries; Lynk, which connects customers with professionals and artisans from fields such as tailoring, carpentry, house helps, waiters, chefs and many others; and FarmDrive, which has developed an alternative credit-scoring model based on mobile phones and machine learning that can enable farmers to have formal access to loans and financing.
For more details, see the infographic below.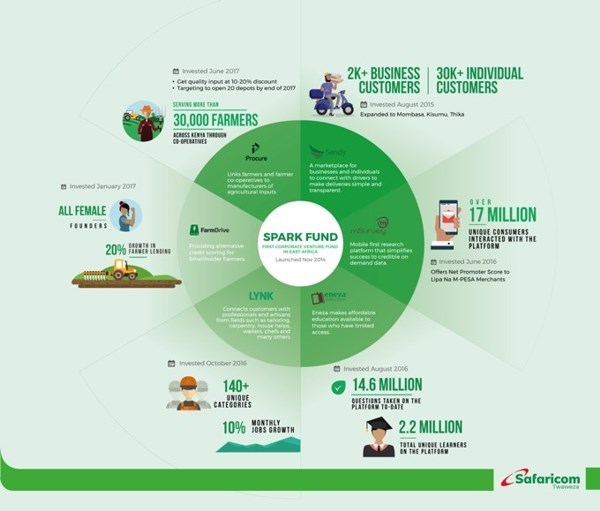 ó Ray Le Maistre, International Group Editor, Light Reading for Connecting Africa.