Mobile, ICT Services Fuel Telkom's Growth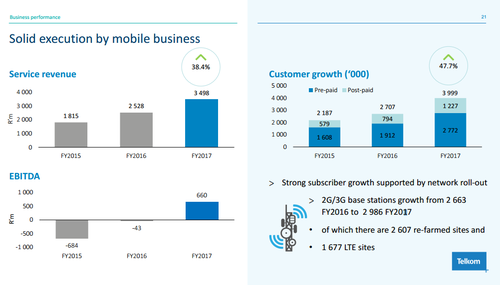 South Africa's multi-service national operator Telkom has reported a near 10% increase in operating revenues and a 12.4% increase in earnings for its full financial year, citing mobile and ICT services sales growth as the key contributors.
The operator, which has 4 million mobile customers, 3 million fixed-line customers and 1 million broadband customers, reported full-year operating revenues for the year to March 31 of 40.97 billion South African Rand (US$3.22 billion), up 9.8% compared with a year earlier, EBITDA flat year-on-year at ZAR10.9 billion ($830 million) and headline earnings per share up 12.4% to 731.4 cents.
Its enterprise ICT service division, called BCX, delivered a 70.5% year-on-year increase in revenues to ZAR7.55 billion ($576 million), though this significant leap is due in part to Telkom SA Ltd. (NYSE/Johannesburg: TKG) being able to report a full year of BCX revenues, compared with only seven months in the previous year following the acquisition of Business Connections in 2015.
Mobile voice and subscription revenues grew 21.7% to ZAR1.03 billion ($81.2 million) and mobile data revenues leaped by 49.6% to ZAR2.36 billion ($186 million), while mobile data traffic volumes grew by 130% compared with the previous year to 85,770 Terabytes. The number of active mobile customers grew by almost 48% to 4 million.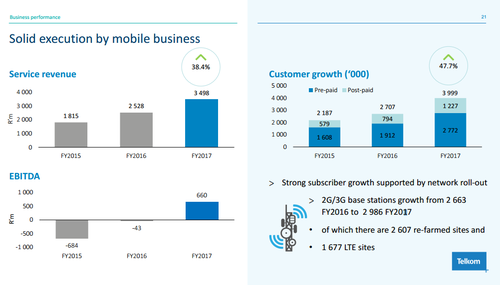 The positive numbers helped Telkom's share price gain 1.6% to 7,721 cents on the Johannesburg Stock Exchange.
Of course, the operator has had to invest heavily to meet the needs of its customers: Telkom's capex hit ZAR8.65 billion ($681 million) in the full financial year, up 43.3% from the previous year and equal to 21.1% of group operating revenues (much higher than the telco industry average of around 13-15%).
Its key areas of investment make sense, though, as fiber rollout (access and backbone), radio access network, core network and OSS/BSS investments accounted for the majority of the spending, all of which will help to support future customer demand.
Telkom now has fiber running to 220,000 homes (up 170% from a year earlier), almost 2 million street cabinets (up 37%) and almost 53,000 businesses.
In terms of its radio access network, Telkom now has nearly 3,000 2G/3G basestations and 1,677 4G/LTE sites.
— Ray Le Maistre,
, International Group Editor, Light Reading for Connecting Africa.