What are the hallmarks of a successful African broadcaster, how can the industry remain sustainable in the long term and what does the future hold for African media? AfricaCom TV sat down with CEO and Chairman of Channels Media Group, John Momoh.
If African broadcasting and driving sustainable content strategies for the African digital consumer is of interest to you, join us at TV Connect Africa, part of AfricaCom 2018. Find out more about TV Connect Africa here
Pre-registration for the 21st annual AfricaCom (13-15 November 2018, Cape Town) has now opened, register your interest here
Speculation suggests Safaricom is about to strike a deal with Ethiopia's government to help introduce the M-Pesa mobile money and banking service to the country's 100 million-plus population and compete with existing player M-BIRR.
An interconnection between the networks of the two operators will complete a 60,000-km data network that runs from Cairo to Cape Town.
Polar Power has launched operations in Africa and has a deal to provide power and cooling products to Namibia's leading mobile operator.
Orange Money Ivory Coast has teamed with Visa and Banque Atlantique to offer its users a payment card.
South African operator used 5G and virtual reality technology at the 2018 Vodacom Durban July horse race over the weekend.
All resources

September 19-20, 2018, Lagos Oriental Hotel, Lagos

November 13-15, 2018, CTICC, South Africa
All Upcoming Live Events
Safaricom Spark Fund Portfolio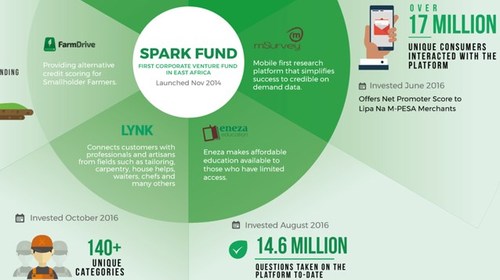 Infographics archive