The bigger, better, bolder AfricaCom is here: AfricaCom has now evolved into a week-long festival of tech, telco and digital events. The event is a business and technology incubator for the architects of Africa's digital future -- supporting disruption and enabling innovation.

AfricaCom will be taking place at the Cape Town International Convention Centre, South Africa.
Festival: 14-18 November 2016
Exhibition: 15-17 November 2016

To find out more, check out: https://goo.gl/y8xeJz
Major Indian telco is believed to have appointed banks to coordinate the IPO of its African business.
Using WiMax to connect sparse populations in rural areas could be an efficient route to providing Internet access for other markets too.
The new undersea South Atlantic Inter Link (SAIL) fiber connection, built by Huawei Marine, is the first of its kind to directly connect Africa and Latin America across the south Atlantic.
The pilot network delivered a download speed of 1.7 Gbit/s.
The South African fintech startup's solution enables 20,000 merchants to receive card payments.
All resources
Safaricom Spark Fund Portfolio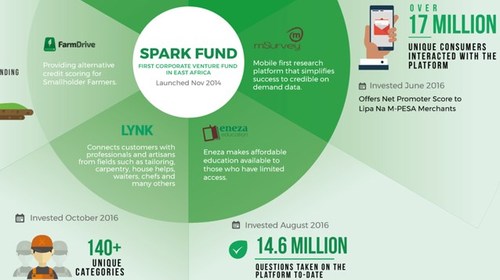 Infographics archive