The bigger, better, bolder AfricaCom is here: AfricaCom has now evolved into a week-long festival of tech, telco and digital events. The event is a business and technology incubator for the architects of Africa's digital future -- supporting disruption and enabling innovation.

AfricaCom will be taking place at the Cape Town International Convention Centre, South Africa.
Festival: 14-18 November 2016
Exhibition: 15-17 November 2016

To find out more, check out: https://goo.gl/y8xeJz
The Kenyan telecoms operator wants to expand its e-commerce proposition, Masoko, to other countries in Sub-Saharan Africa by next year.
The South African IT services firm has confirmed that an investigation has found evidence of unsubstantiated payments, tender irregularities and other unethical business dealings that could add up to $87 million.
Cell C interim CEO Douglas Craigie Stevenson has published an open letter speaking about the 'financial and other challenges' that the South African operator faces.
South African Minister of Communications and Digital Technologies, Stella Ndabeni-Abrahams, has given herself short deadlines for big moves when it comes to spectrum and the extremely delayed digital migration process.
Music streaming service Spotify has launched a 'Lite' version for emerging markets which uses less storage, data and battery.
All resources
Safaricom Spark Fund Portfolio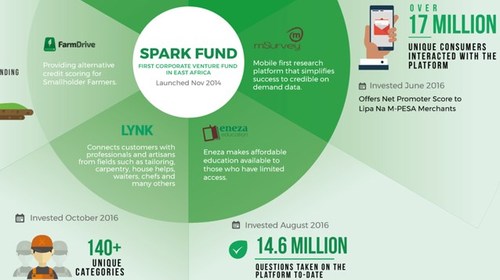 Infographics archive