Member Since: July 13, 2018
Mark Sindone is a young businessman who has just started to run his own franchise in burwood council, a suburb of Sydney. Describing himself as full of energy and someone who enjoys a challenge he is excited about his new self-storage venture, Archive Storage Inner West, a franchise of Supercheap Storage Inner West. Although he still has 2 years to complete before getting his degree in Commerce Law he has postponed it for the time being to focus on his new project. When not working he thrives on playing outdoor sports or meeting friends to try some new outdoor activity, his favourite at the moment being water-polo.
More than three quarters of Africa's nations will have some 4G mobile services by the end of this year, according to research house GlobalData.
Jack Ma, the founder of Chinese e-commerce giant Alibaba, has launched the Netpreneur Prize, which will allocate US$10 million to African entrepreneurs in the coming years.
The uncertainty is crushing the marketů
The addition of the AI Summit, IoT World Africa and an Enterprise Digital Transformation track at this year's AfricaCom event will highlight the opportunities that new technologies can bring to corporates.
The operator added subscribers and improved margins but its debts and challenges in Iran and other markets are making investors nervous.
All resources
Safaricom Spark Fund Portfolio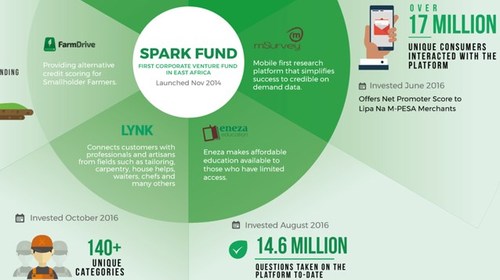 Infographics archive