Member Since: July 9, 2018
Mark Grogan is a steadfast man who enjoys taking risks. Even from his youth, he chose to break away from the tried and tested route of education and venture into a tough engineering industry to make it through an apprenticeship and into his first successful position of his career. He chose to cease his business in the heavy industrial sector to travel the world. And boy, did he do it all out. He travelled for several years across the different continents and with plenty of stories and experiences under his belt to share with anybody who is willing to make a new friend and share a pint together. Now with SuperCheap Storage Wollongong, Mark is embarking on yet a new journey as a business owner and is looking forward to the challenges that are at hand. It won't be long before his facility takes off in Illawara and we are glad to welcome him into the SuperCheap family!
To compensate his proposed reduction of tax on petroleum products, Uhuru Kenyatta wants to bump up tax on phone calls and internet use.
Major Indian telco is believed to have appointed banks to coordinate the IPO of its African business.
Using WiMax to connect sparse populations in rural areas could be an efficient route to providing Internet access for other markets too.
The new undersea South Atlantic Inter Link (SAIL) fiber connection, built by Huawei Marine, is the first of its kind to directly connect Africa and Latin America across the south Atlantic.
The pilot network delivered a download speed of 1.7 Gbit/s.
All resources
Safaricom Spark Fund Portfolio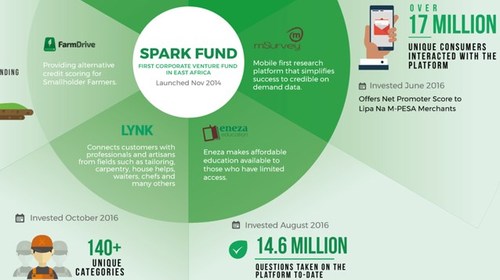 Infographics archive