Profile for paulinelacorde

Member Since: November 23, 2017
Moi c'est Pauline, la trentaine et maman d'une petite fille de 6 mois. Depuis sa naissance j'écris beaucoup à son sujet et je reviens longuement sur ma période grossesse et sur les difficultés que j'ai rencontré. J'ai eu envie de créer un blog sur la maternité et depuis peu je publie des articles sur le sujet. Je pense qu'il est très important de communiquer sur la maternité et la grossesse afin d'aider les jeunes mamans à élever leurs enfants et surtout à bien accepter l'accouchement qui peut être une épreuve assez difficile...
A bientôt j'espère et j'aspire à vous voir bientôt sur mon site.
Major Indian telco is believed to have appointed banks to coordinate the IPO of its African business.
Using WiMax to connect sparse populations in rural areas could be an efficient route to providing Internet access for other markets too.
The new undersea South Atlantic Inter Link (SAIL) fiber connection, built by Huawei Marine, is the first of its kind to directly connect Africa and Latin America across the south Atlantic.
The pilot network delivered a download speed of 1.7 Gbit/s.
The South African fintech startup's solution enables 20,000 merchants to receive card payments.
All resources
Safaricom Spark Fund Portfolio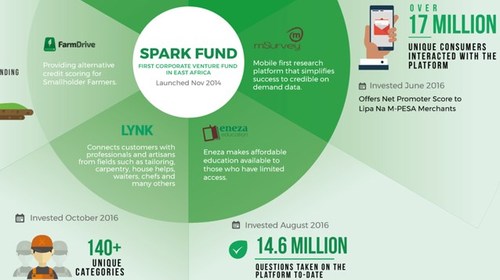 Infographics archive