Profile for paulinelacorde

Member Since: November 23, 2017
Moi c'est Pauline, la trentaine et maman d'une petite fille de 6 mois. Depuis sa naissance j'écris beaucoup à son sujet et je reviens longuement sur ma période grossesse et sur les difficultés que j'ai rencontré. J'ai eu envie de créer un blog sur la maternité et depuis peu je publie des articles sur le sujet. Je pense qu'il est très important de communiquer sur la maternité et la grossesse afin d'aider les jeunes mamans à élever leurs enfants et surtout à bien accepter l'accouchement qui peut être une épreuve assez difficile...
A bientôt j'espère et j'aspire à vous voir bientôt sur mon site.
Africa's digerati are set to converge on the annual AfricaCom event in Cape Town once again to figure out the continent's connected future, analyse the potential of 5G, identify how IoT and smart cities could play a role in Africa's digital development… and much more.
Kenyan operator will work with Google's Loon to launch a 4G mobile broadband service in rural and suburban areas starting next year.
Mobile operator MTN may be considering pulling out of Liberia, Guinea and Guinea-Bissau, but may enter long coveted Angola and Ethiopia.
Speculation suggests Safaricom is about to strike a deal with Ethiopia's government to help introduce the M-Pesa mobile money and banking service to the country's 100 million-plus population and compete with existing player M-BIRR.
The telecom regulator of Chad has issued an invitation for tender to auction out a new mobile licence covering 2G, 3G and 4G.
All resources

September 19-20, 2018, Lagos Oriental Hotel, Lagos

November 13-15, 2018, CTICC, South Africa
All Upcoming Live Events
Safaricom Spark Fund Portfolio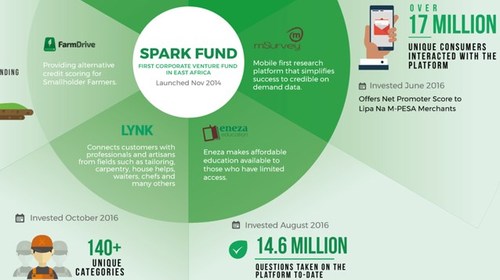 Infographics archive