Member Since: August 30, 2017
Bonjour, je suis Slevin, j'ai un travail comme chef de projet dans une agence digitale et je suis en charge des projets création site internet Dijon Netref pour le secteur de la Bourgogne. Mon équipe et moi même développons des stratégies de communication en ligne pour des entreprises qui aimeraient gagner en visibilité sur internet et attirer ainsi de nouveaux clients.
International IP network operator opens its third African point of presence (PoP), setting up in Nairobi's East Africa Data Centre, and plans further expansion across the continent.
IBM is engaging with a major telecoms operator in South Africa on a potential leap to next-generation network management capabilities.
Kenyan operator has plans to deliver smart home services once high-speed connections are in place.
Africa is in line to have more than 100 commercial 4G LTE networks by the end of 2017 and about 40 million 4G users, according to Xalam Analytics data shared during a Connecting Africa webinar.
Technology is playing a key role in enabling a democratic process in Liberia.
Thursday, November 2, 2017
2:00 p.m Cape Town / 1:00 p.m London / 8:00 a.m New York
Available data center white space has doubled over the past five years and has been growing by an average of around 15% annually. This webinar will assess this transformation, and provide a window into what the expanding demand for cloud services means for the future of the African data center market.
Thursday, November 16, 2017
2:00 p.m Cape Town / 1:00 p.m London / 8:00 a.m New York
FTTH rollout has accelerated across Africa, driven by increased availability and consumption of bandwidth-hungry content, from video streaming services to cloud-based enterprise applications. This webinar will provide an overview of key trends in this burgeoning sector, along with some perspective on the status of deployments, economic feasibility and competition with alternative broadband access technologies (mobile broadband in particular).
All resources

November 6-10, 2017, Cape Town International Convention Centre (CTICC), Cape Town, South Africa
All Upcoming Live Events
Safaricom Spark Fund Portfolio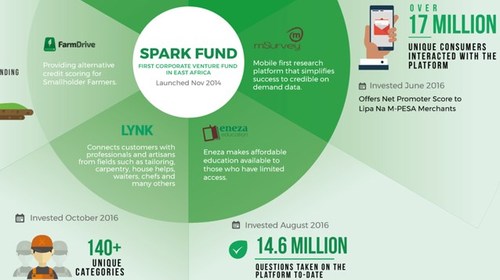 Infographics archive