Member Since: August 30, 2017
Bonjour, je suis Slevin, j'ai un travail comme chef de projet dans une agence digitale et je suis en charge des projets création site internet Dijon Netref pour le secteur de la Bourgogne. Mon équipe et moi même développons des stratégies de communication en ligne pour des entreprises qui aimeraient gagner en visibilité sur internet et attirer ainsi de nouveaux clients.
The pan-African operator has already made a name for itself in the continent's fiber markets. Its new focus is the cloud.
From satellite to balloon connectivity – how African governments and tech giants are bridging the digital divide.
Kenyan operator launches e-commerce platform, Masoko.
Nigerian mobile operator has attracted multiple bidders keen to play a role in one of Africa's biggest markets, according to local media reports.
Investigation into Vodafone's growth across Africa suggests that deals were not as ethical and transparent as they could have been and have lined the pockets of the continent's political elite.
Thursday, November 16, 2017
2:00 p.m Cape Town / 1:00 p.m London / 8:00 a.m New York
FTTH rollout has accelerated across Africa, driven by increased availability and consumption of bandwidth-hungry content, from video streaming services to cloud-based enterprise applications. This webinar will provide an overview of key trends in this burgeoning sector, along with some perspective on the status of deployments, economic feasibility and competition with alternative broadband access technologies (mobile broadband in particular).
All resources
Safaricom Spark Fund Portfolio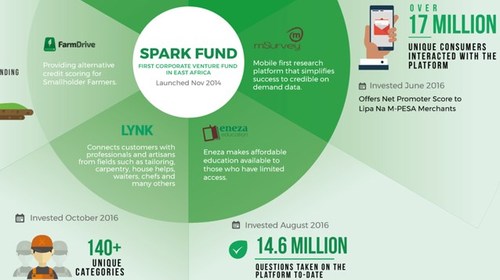 Infographics archive