Member Since: November 8, 2016
I have been a writer and editor for over 20 years with 16 of those years focused on the telecom sector in a variety of capacities, including journalism, corporate communications, public relations, radio show hosting and more. Formerly editor of Light Reading's The New IP, I am now leading the content and direction for Light Reading's online learning community, Upskill U. In January, I was appointed as a Solar System Ambassador for NASA Jet Propulsion Laboratory in Pasadena, Calif. As a Solar System Ambassador I present space and environmental science programming to large and small groups on a variety of topics, and focus on getting young girls excited about STEM.
Regulatory process means identity of Nigerian operator's new owner will not be announced imminently.
Kenyan operators fined for poor quality of service while tax rates have been hiked for mobile operators in Chad.
Guy Zibi from Xalam Analytics takes stock of South Africa's proposed 4G wholesale experiment and how it could impact multiple markets.
The number of pay-TV subscribers in sub-Saharan Africa will grow by 74% between 2017 and 2023, according to a new forecast from Digital TV Research.
South African operator has been conducting 5G trials with partner Ericsson but knows it will need more spectrum to make 5G a reality.
Thursday, November 16, 2017
2:00 p.m Cape Town / 1:00 p.m London / 8:00 a.m New York
FTTH rollout has accelerated across Africa, driven by increased availability and consumption of bandwidth-hungry content, from video streaming services to cloud-based enterprise applications. This webinar will provide an overview of key trends in this burgeoning sector, along with some perspective on the status of deployments, economic feasibility and competition with alternative broadband access technologies (mobile broadband in particular).
All resources
Safaricom Spark Fund Portfolio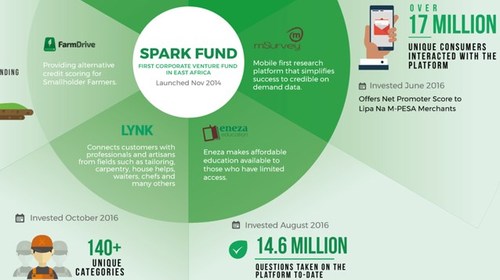 Infographics archive