Ethiopian startup Gebeya has raised $2 million in a funding round co-led by Orange Digital Ventures and Partech and also including Consonance Investment Managers.
Gebeya -- which means "marketplace" in Ethiopia's national language, Amharic -- is a new age EdTech company aiming to solve the global tech talent shortage by producing African software engineers and matching them with clients across Africa and the globe to develop innovative technology solutions, improve development efficiency as well as scalability.
The group has already graduated over 600 tech talents, more than a third of whom have been matched with startups across Africa and further afield.
Gebeya confirmed the $2 million investment in a LinkedIn post , saying it has plans to scale up its training and marketplace services in Francophone Africa as well as launch its online African talent marketplace.
The Addis Ababa-headquartered startup has been around since 2016 and is committed to building the pipeline for the next-generation workforce for a virtual 21st-century African digital economy.
In 2019, the International Finance Corporation granted $500,000 in funding to Gebeya to provide scholarships to aspiring female software engineers. Through the Digital Gender Ethiopia Program, Gebeya will train a total of 250 aspiring female software engineers as a way to help mitigate gender disparity in the fields of science, technology, engineering and mathematics (STEM) in Africa.
Gebeya CEO and co-founder, Amadou Daffe, said in the LinkedIn post that the investment is a pivotal moment for the startup.
"The company has been strongly committed to bringing the abundant capacity of Africa's youth to light. This investment will enable us to further strengthen the community of top-notch tech talents and position Gebeya as the go-to for other companies as well as startups. Through this investment, Gebeya will be at the forefront of the digitization and utilization of Africa's potential," he said.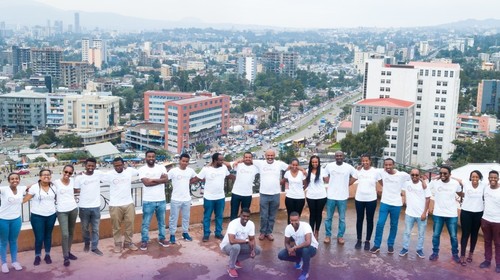 Orange Digital Ventures Africa is an initiative of the Orange group, created in 2017, and is an international early-stage technology investment fund worth €125 million ($137 million) with an ambition to support tech entrepreneurship in Africa.
Orange will expose Gebeya to commercial partnerships with its African subsidiaries -- and its West African subsidiary, Sonatel, is already a client of Gebeya's -- and to other companies, as well as supporting its expansion across French-speaking Africa.
"With more than 60% of VC backed tech startups in Africa created in the last five years, our ecosystem is growing very fast and investments are booming, yet the talent gap remains wider. Skills shortage is a critical barrier to startups successfully exploiting the power of new technologies," said Marieme Diop from Orange Digital Ventures Africa in a statement.
Partech is a global investment firm with offices in San Francisco, Paris, Berlin and Dakar. The company brings together capital, operational experience and strategic support for entrepreneurs at seed, venture and growth stages across multiple continents, with over €1.3 billion ($1.4 billion) investment capacity.
"At Partech Africa, we've been watching this space closely and we believe there is a large opportunity to address unmet demand and create value for the growing pool of African talent on the global stage. With Gebeya's model and the team's dedication to this challenge and the amazing progress they've made so far, we are really excited to join them in the next stage," said Tidjane Deme, general partner at Partech Africa.
Consonance Investment Managers also invests in early-stage and growing businesses across sub-Saharan Africa.
"Human Capital, the ability and productivity of people, is by far the most important asset any country that wishes to develop must nurture. We believe Gebeya's platform would do just that across Africa," added Mobolaji Adeoye, founding partner at Consonance Investment Managers.
— The Staff, Connecting Africa