Repairs have begun to fix a dual cable failure that has left South Africa and other parts of the continent with slow Internet services during the past two weeks. However, both cables are likely to only be fully repaired in mid-February.
The affected cables, the South Atlantic 3/West Africa Submarine Cable (SAT3/WASC) and the West African Cable System (WACS), are deployed in the Atlantic Ocean and connect South Africa and many other African countries to Europe.
A simultaneous dual cable break on January 16 left South African Internet users, whose ISPs are connected to international connectivity on both or either of the cable systems, experiencing reduced speed on international browsing. There has also been an impact to international voice calling and mobile roaming. (See SA Hit by Slow Internet After Dual Cable Failure .)
Telkom's wholesale division, Openserve, is one of the service providers hit by the faults and the company confirmed in a statement that repairs to the WACS cable have begun off the coast of Congo.
Openserve said it had been informed, by the chief of mission on the Leon Thevenin repair vessel, that the WACS restoration will be attended to first and then the fault on the SAT3/WASC line.
"As per the report received, it is anticipated that the WACS repair will be completed on February 8, 2020. This is subject to favourable external factors such as the weather conditions at sea," Openserve said.
The SAT3/WASC repair is then scheduled to start on February 8 and is expected to be completed by February 19, if all goes according to plan.
Gale force winds in Cape Town, South Africa, initially delayed the operations of the Leon Thevenin ship, which has been tasked with the restoration process for both cables.
Openserve, as well as many other South African and international operators, holds equity in both WACS and SAT3/WASC. The capacity that wholesale operators hold is sold on to Internet service providers and other industry players that require international connectivity.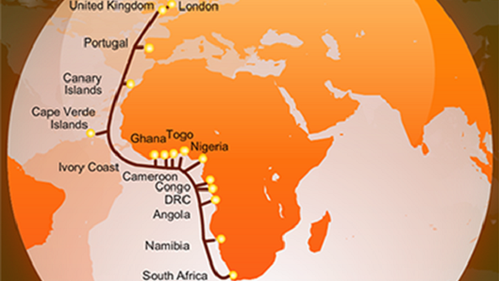 — The Staff, Connecting Africa