Africa's pay-TV market is set to grow significantly during the next six years, ramping up from 30.7 million currently to more than 47 million by the end of 2025, according to a forecast from Digital TV Research.
The number of pay-TV subscribers will rise by 54% to hit 47.26 million in 2025, with Nigeria this year set to overtake South Africa's as the continent's largest single market (by subscribers) and hitting 10 million pay-TV users by 2025, according to the findings published in the Africa Pay TV Forecasts report.
However, the average amount each subscriber will pay is set to decrease: Revenues from pay-TV services in Africa will grow by just 31% between 2019 and 2025 to US$7.2 billion, from about $5.5 billion in 2019.
"Despite the strong subscriber growth, competition is intense," notes Simon Murray, principal analyst at Digital TV Research. "Prices and ARPUs are falling as rivals fight to gain subscribers," he adds.
Three giant pay-TV companies, each of which provide services over satellite and digital terrestrial channels, will continue to dominate the market, though their joint market share is set to dip from 93% in 2019 to 88% by 2025, according to Murray's forecast.
Multichoice had 14.56 million subs across satellite TV platform DStv and DTT platform GOtv at end of 2019: This total is set to grow to 18.05 million by 2025, "with a marked slowdown in satellite TV growth," notes Murray.
Vivendi had 4.73 million subscribers using its Canal Plus satellite TV platform and Easy TV DTT platforms at the end of last year: Its total is set to grow to 7.35 million by 2025.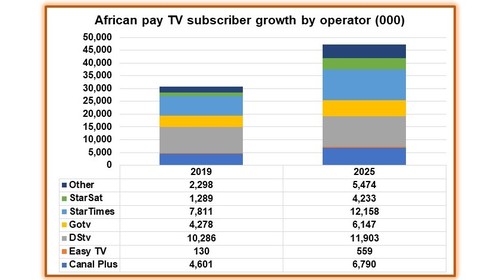 StarTimes/StarSat "will enjoy the most impressive growth," states Murray in his research note, growing from 9.1 million subs at the end of 2019 to a projected 16.39 million by 2025.
— The staff, Connecting Africa