Alphabet's balloon Internet project, Loon, has signed an airspace deal with Uganda that will help it provide connectivity to rural Kenya and beyond.
Loon uses high-altitude balloons to provide mobile Internet to remote areas. According to Reuters, the unit of Google's owner Alphabet signed an access airspace agreement with Uganda earlier this week.
The deal grants Loon overflight rights crucial to its plans to provide balloon-enabled Internet services in neighboring Kenya.
Loon announced in July a plan to deploy its balloon system to beam high-speed Internet access to Kenya.
The Ugandan rights were important because "the balloons may get above the Ugandan stratosphere as they provide service across Kenya," Scott Coriell, Loon's head of global communications, told Reuters.
Loon has taken the most essential components of a cell tower and redesigned them to be light and durable enough to be carried by a balloon 20 kilometers (12.4 miles) up. The balloon is powered by an on-board solar panel.
According to the Loon website, the balloons are made from sheets of polyethylene. Each tennis court-sized balloon is built to last for more than 100 days before landing back on Earth in a controlled descent.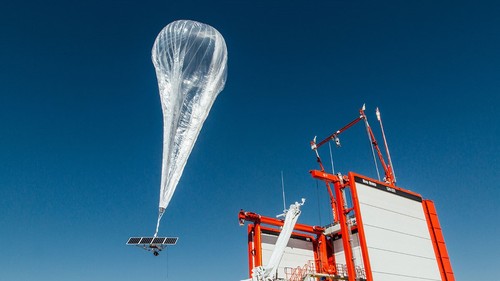 — The Staff, Connecting Africa