Google is enabling free WiFi for Cape Town's underserved Cape Flats areas through Google Station.
Google Station is cloud-based software that enables Internet service providers (ISPs) and venues to roll out free WiFi hotspots in places where people spend a lot of time, like transport hubs, markets, universities and malls.
The WiFi enabler comes to South Africa for the first time in partnership with ISP Think WiFi, rolling out in the Cape Flats where connectivity barriers are high.
Google Station was first launched in 2015 to provide free WiFi at railway stations across India. The project then expanded to Latin America in March 2018 with a launch in Mexico and then to Africa in July 2018 when it rolled out in Nigeria. (See Google & Partners Are Connecting Nigeria to Free WiFi Hotspots.)
Currently, there are about 5,000 Google Stations providing Internet to millions of people each month in eight countries, including Brazil, Indonesia, the Philippines, Thailand and Vietnam.
The innovation has come to South Africa and is now available in over 100 locations across Langa, Khayelitsha, Gugulethu, Delft, Elsies River and Philippi in Cape Town. This is important because these areas are some of the most underserved communities in South Africa, battling high unemployment and crime rates.
"By gaining access to information via the Internet, we hope that people in these communities will get a more equal opportunity to learn and develop and live more empowered lives," said Nitin Gajria, Google Africa director.
Google Station provides a simple set of tools to help venues, ISPs and system integrators with access to fiber to set up, maintain and monetize their WiFi networks.
"Currently, many venues with public WiFi are required to stitch a custom solution together for each separate location. This makes public WiFi networks hard to use: the log-ins are one-off and cumbersome, and connections are slow and can be less secure. Venues have trouble administering a large network, providing high quality of service to users, and easily monetizing usage," the group explained in a statement.
To help solve this, Google Station offers a platform, in partnership with hardware OEMs and ISPs, that reduces the cost of deployment, operations and ongoing support.
"Even with the progress on expanding mobile Internet, we are finding that public WiFi remains a crucial step in getting Internet access to everyone. Users can automatically connect and get online wherever they are -- at bus stops, markets, restaurants -- or wherever they spend time," Google said.
Think WiFi CEO Janine Rebelo said it is important to provide fast, free, reliable, uncapped WiFi in underserved communities; giving people access to more on-line resources and more opportunities.
Google Station WiFi runs for 30 minutes, but users can keep connecting as many times as they want.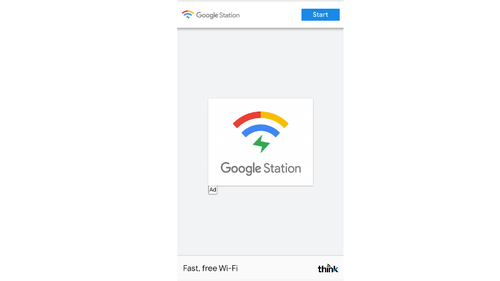 Google for SA
At the first "Google for South Africa" event in Johannesburg on Thursday the company also announced a number of initiatives and products specifically tailored to the South African market.
Google said it would invest US$1 million in South Africa as part of its five-year commitment to non-profits and social enterprises, to support the economic empowerment of girls and women in South Africa.
Last year, Google awarded $6 million to 36 non-profit organizations across Africa through the Google Impact Challenge -- 12 of them from South Africa.
"One of the key focus areas of our programs has been the empowerment of women and minority groups, and I'm happy to say that 48% of the people we have trained in South Africa are women," added Asha Patel, head of marketing for Google South Africa.
Google is also bringing speech-based reading app Bolo, which helps kids learn how to read in English, to South Africa. Bolo uses Google's existing speech recognition and text-to-speech technology that power the Google Assistant, to serve as a personalized reading tutor for kids, and even works when you are offline. It's already available in Nigeria, Ghana, Kenya and India.
— The Staff, Connecting Africa