Cell C has reported a massive loss of 8 billion Rand (US$534 million) for its financial year that ended May 31, but claims it's already seeing the positive impact of the "turnaround strategy" being implemented under the stewardship of interim CEO Douglas Craigie Stevenson, who took charge in March this year. (See Cell C Opens Up About Financial Challenges.)
Although the operator reported a 4% increase in full fiscal year service revenues to R14.2 billion ($949 million), its margins were squeezed by the introduction of its expanded network roaming agreement with MTN, and its net loss ballooned due mainly to "impairments" (which reflect the depleted value of assets) of R6.275 billion ($419 million).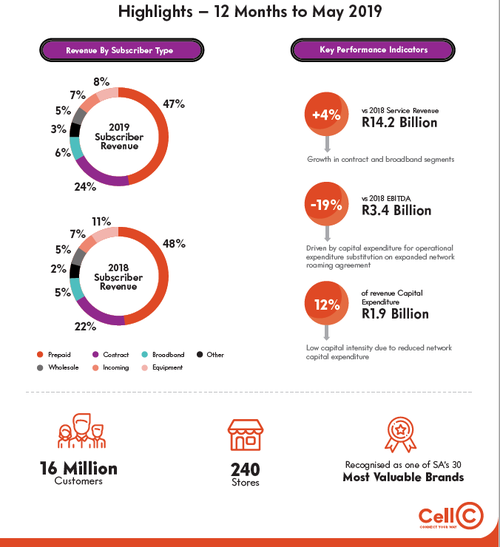 Even without those impairments, trading conditions were tough, noted CFO Zaf Mahomed in the operator's earnings statement. "The 2019 financial year has been characterized by slow growth, a volatile Rand against major currencies, service issues relating to load shedding and a continuing slowdown in the economy, which resulted in a decline in GDP in the first quarter of 2019. Consumer purchasing power has weakened, which together with reduced disposable income contributed to a lower than expected financial performance of the company."
Those conditions and the impairment costs weighed heavy on the financials of Blue Label Telecoms, which holds a 45% stake in Cell C: Blue label reported a full-year loss mainly to Cell C's disastrous financials. To help shore up its own balance sheet, Blue Label announced the sale of various business holdings to SIM card distributor DNI.
Now Cell C, South Africa's third mobile operator behind Vodacom and MTN, has to pick up the pieces and rebuild its business, and there are at least some slivers of hope.
Its revenues are still growing, albeit only just, with particular signs of encouragement in the mobile contract, broadband and wholesale lines of its business, though gains there were tempered by a decline in prepaid mobile service revenues and a 25% dip in device sales due to greater subsidies.
Not helping matters is Cell C's shrinking customer base: It ended the financial year with a 2% decline in overall customer numbers to 15.9 million, though its monthly average revenue per user (ARPU) rate did increase by 11% to R253 ($16.88).
But the most recent quarter -- the three months ending in August -- are giving the management team some hope, with service revenue up by 2% year-on-year to R3.68 billion ($245 million) and earnings before interest, tax, depreciation and amortization (EBITDA) up by 18% at just over R1 billion ($66.7 million) thanks to improved efficiencies related to the operator's new strategy.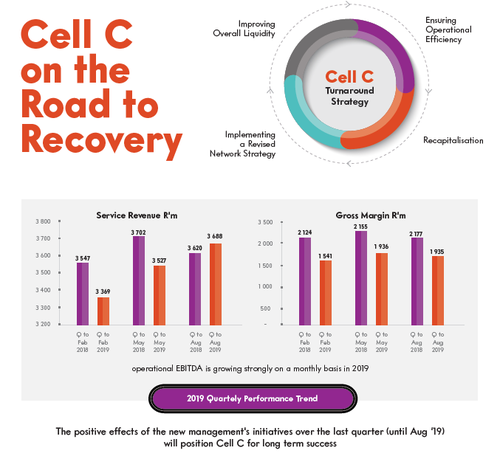 "Our turnaround strategy is focused on ensuring operational efficiencies, restructuring our balance sheet, implementing a revised network strategy and improving our overall liquidity," noted Cell C CEO Douglas Craigie Stevenson. "Cell C has a real opportunity to address its historical performance through a focus on operations that will restore shareholder value. We are convinced that our wide-ranging operational initiatives will position Cell C for long-term success."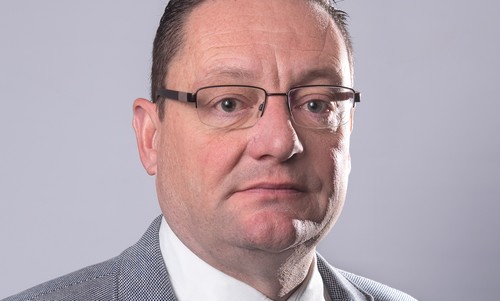 That turnaround strategy hasn't been instilling confidence in the financial markets, though, and Cell C felt the need to respond last month to a downgrade by ratings agency S&P. (See Cell C Responds to S&P Downgrade .)
— The staff, Connecting Africa