Airtel Africa Reports 7% Sales Boost in Fiscal First Quarter
KEY HIGHLIGHTS:
Customer base grew by 9.3% to 99.7 Mn
Reported revenues increased to $ 795.9 Mn, up 6.9%, with constant currency growth of 10.2%. This was the 6th consecutive quarter of double-digit constant currency growth
Revenue growth of 10.2% in constant currency was driven by double-digit growth in Nigeria and East Africa, partially offset by a decline in revenue in Rest of Africa
Growth was recorded across business products. Constant currency revenue in Voice increased by 3.2%, data revenue increased by 35.9% and Mobile Money revenue grew by 41.8%
Reported underlying EBITDA was $ 347.6 Mn, up 9.7%, while constant currency underlying EBITDA growth was 12.8%
Underlying EBITDA margin in reported currency was 43.7%, an increase of 111 bps, while there was an increase of 101 bps in constant currency terms
Free cash flow was $ 102.4 Mn, down 29.2% largely as a result of increased capex for network modernization and rollout of additional sites
EPS before exceptional items was $ 2.0 cents., down 46.8% largely as a result of an increase in the number of shares. Basic EPS was 4.1 cents

Raghunath Mandava, Chief Executive Officer, commented on the trading update:

"I am pleased to report a strong start to the financial year, in our first quarterly results since the IPO. These results, which are in line with our expectations, are clear evidence of the effectiveness of our strategy across Voice, Data and Mobile Money. In the quarter, we delivered a 10% increase in revenue in constant currency terms, with even higher underlying EBITDA growth largely as a result of operating leverage and a tight focus on costs which led to underlying EBITDA margin expansion of 101bps.

Voice revenue, our largest business product, was up 3% largely driven by 9% growth in our customer base, now reaching nearly 100 Mn customers across our footprint. Data revenue, our largest contributor to growth, was up 36% as an increasing number of customers relied on our high-quality and high-speed LTE network, resulting in a 79% growth in data usage. Mobile Money revenue, our fastest growing business, increased by 42% as we expanded our distribution reach.

We continued to invest in our 4G network, adding nearly 1,500 sites; now more than half of our sites are 4G. We also continue to prepare for the launch of our Mobile Money business in Nigeria, securing approval of the brand name, an important step as we await approval for our payment service bank license.

The business continues to show momentum and we are confident of delivering sustained growth across Voice, Data and Mobile Money, underpinning our medium-term aspirations for revenue and profit growth."

ENDS
South Africa's University of Pretoria has moved its e-Learning platform into the cloud and has seen a big bump in usage, with mobile playing an important part.
KaiOS Technologies and Tecno are rolling out a new smart feature phone across sub-Saharan Africa.
With two and a half weeks to go before the current head of Middle East and Africa steps down, there is still no news from Ericsson about a replacement.
MTN plans to roll out an ultra low-cost smartphone across its operations in Africa by the end of 2019.
Despite tough trading conditions, MTN added 7.7 million group subscribers and grew service revenues almost 10% in the first half of the financial year.
All resources
Safaricom Spark Fund Portfolio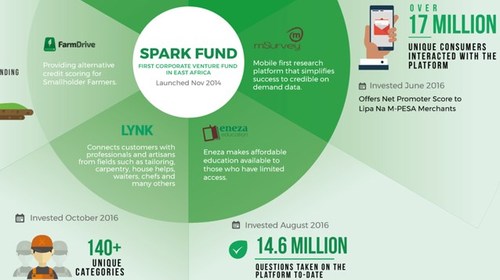 Infographics archive