Africa's international connectivity has improved immeasurably during the past decade as multiple investors and network operators fund and build subsea networks linking African nations with Europe, the Middle East, Asia and the Americas and paving the way for much-anticipated digital developments. (See WACS Subsea Cable Upgrade Completed by Huawei Marine, Bharti Airtel, Telecom Egypt Team Up on Subsea Networks, Orange International Carriers Boosts Connectivity between Asia, the Middle East and West Africa and Huawei Marine Completes SAIL Subsea Network Build.)
One example is the Pakistan East Africa Cable Express (PEACE) project, which is connecting East Africa to Pakistan and France.
In the build-up to November 2018's AfricaCom event in Cape Town, Orange announced its participation in a major submarine network development set to enhance Internet performance in East and Southern Africa. Orange is the technical partner for PEACE in Marseille, where it is using its existing subsea landing point facilities and facilitating the termination of the cable in a carrier-neutral data center facility.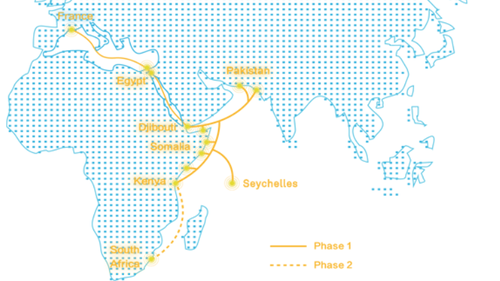 The global telecoms operator has been quick to affirm, however, that its involvement in the PEACE project, alongside HKT's international operation PCCW Global, is merely one strand of a much broader ecosystem, not a long-term solution in isolation.
PEACE is a Chinese-led initiative connecting East Africa and Gwadar, Pakistan and extending to Europe. At 12,000km long, the privately owned system is expected to be ready for service in 2020 and it will ultimately look to provide high-performance connectivity between Pakistan, Djibouti, Kenya, Egypt, South Africa (in Phase 2) and Europe via France. (See PEACE Subsea Cable Set for Late 2019 Launch.)
France-IX, an Internet exchange facilities company, has seen first-hand the influence that submarine cables can have on African connectivity development. According to Chief Commercial Officer Delphine Masciopinto: "Although the Internet in Africa is growing fast, there are major disparities. Mobile broadband access accounts for more than 90% of Internet subscriptions, but the majority of countries have an Internet penetration below 10% and users in Africa pay up to 30 or 40 times more for Internet access than their peers in developed countries."
Masciopinto, naturally, is keen to promote the role of Internet exchange points (IXPs) in "facilitating Internet-based economic growth in Africa."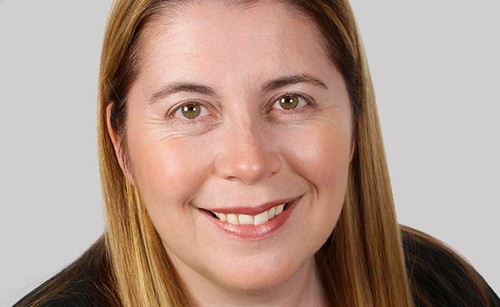 Increasing capacity
With a need to extend north and hook into Europe, France was one of the more natural landing point options for PEACE, in particular Marseille, which has long been a hub for submarine networks. Orange was keen to take on the project from this Southern European control center. The operator's executive VP of Orange International Networks Infrastructures & Services, Jean-Luc Vuillemin, noted during AfricaCom: "The growth of submarine cables and the introduction of projects like PEACE are interesting but not necessarily surprising. They're just another way of replicating economic exchange routes already in existence. For me, PEACE reflects the general increase of all economic exchanges between China on one side, and Europe and Africa on the other."
He added: "Ultimately, the region needs submarine cables because it continues to grow with 4G, 5G, optical fiber … And despite the situation improving in recent years … the need to add more cables to cope with this growth is still there."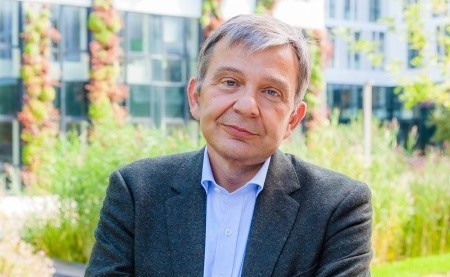 Orange has already contributed as many as 20 high-capacity cables to this continental effort, each in turn providing support for each respective country's economic potential as a result. Kenya and Djibouti, followed by South Africa during Phase 2 of the PEACE development, are hoping for similar outcomes as Internet usage escalates dramatically each year.
Says France-IX's Masciopinto: "There has unquestionably been an increase in capacity demand due, in part, to the likes of Google, Microsoft, Facebook and Netflix. Irrespective of independent countries' network strategies, all require access to high capacities in order to meet this need, and the most cost-effective way to do so is through the implementation of subsea cables to connect Africa to all other continents.
"As evidence of this trend, over the past 12 months, the number of African networks that have joined France-IX here in Paris and Marseille has increased by 60% and traffic from African ISPs has increased by 90%."
Contributing to the ecosystem
The demand for increased capacity is unquestionable, and the room for intervention and facilitation from operators and facilities managers such as Orange and France-IX is also clear. For both companies, though, there is an acknowledgement that projects such as PEACE, and the role of Internet exchange points and submarine networks in the digital development of Africa, should be a cog in a wider machine, not the sole contributor to infrastructural development.
"International connectivity is certainly an important element in the maturing communications market for Africa, but it's not the only condition for full development and success," says Will Hahn, a principal analyst for Gartner's Tech and Service Provider practice. For most African nations, "inland fiber and backbone [optical terrestrial routes] must be brought up to par with the long-haul capabilities Africa is building, to bring down prices, improve competition, and help develop the key use-cases of 5G service which will require much higher network densification on the edge with users and their devices."
Orange's Vuillemin concurs: "You can compare interconnectivity in Africa to aeroplane routes. If you want to fly from Senegal to the Ivory Coast at the moment, you're better off getting a connection from London or Paris before re-entering Africa. It's the same with connectivity. Many countries at the moment come out to Marseille to come back into Africa, and those submarine connections fulfill one development requirement. What Africa also needs, though, is to secure more internal network development to support this one strategy."
There are currently 44 active IXPs located across 40 cities in 32 African countries, yet the cost challenges of building and maintaining terrestrial backbone transport networks, as well geopolitical roadblocks, makes true continental connectivity an ongoing challenge, though there are signs of efforts to improve the situation. (See Liquid Telecom, Telecom Egypt to Complete 'One Africa' Network.)
For its part, Orange, which recently reported significant growth from its Africa and Middle East operations, is determined to help Africa overcome these challenges as it continues its long-running affiliation with the continent's infrastructural evolution. (See Africa & Middle East Shine for Orange.)
"Telecommunications is an ecosystem. In order to keep it growing you need everything to work in harmony -- proper regulation, enhanced infrastructure, educated customers, and, of course, international support through initiatives like PEACE," Vuillemin continues. "Without subsea cables, the ecosystem would break down, but similarly by only focusing on submarine investment the continent's network latency issues will also persist.
"At AfricaCom we were given the opportunity to once again discuss Africa's telecommunications status, and the conclusions remained the same among international providers like Orange. Subsea cables are fantastic for increasing capacity and improving the infrastructure in Africa, but only if countries begin to align their own internal network infrastructure developments to these cables, so that all elements of the ecosystem evolve together."
— Matthew Staff, Contributing Editor, special to Connecting Africa