With just a few weeks to go until the annual Nigeria Com 2018 event opens its doors, Connecting Africa is speaking to some of the key figures shaping Nigeria's telecoms and technology sectors.
We spoke exclusively with Tony Onuk, Co-Founder and CEO of The RootHub about the opportunities and challenges in the Nigerian startup scene.
Connecting Africa: Which sectors and technologies do you think offer the biggest opportunities for Nigeria's startups?
Tony Onuk: Technology has helped in shaping the way things are done and birthing new innovations in all aspects of service delivery. This has given rise to increased activity and highlights the growth potential of sectors like:
1) Healthcare/BioTechnology: Healthcare and biotech is an industry that startups can truly transform with the help of technology and innovative new ideas.
2) Data and Analytics: The ability to collect and understand data means everything when it comes to making decisions, reaching your customers for feedback or sales, and staying one step ahead of the competition.
3) Fintech: This growing sector has seen traditional financial markets disrupted or enhanced by new technologies. A large and growing percentage of consumers nationwide are using fintech services, which gives startups the edge in creating companies in this industry, which is good for business and the overall economy.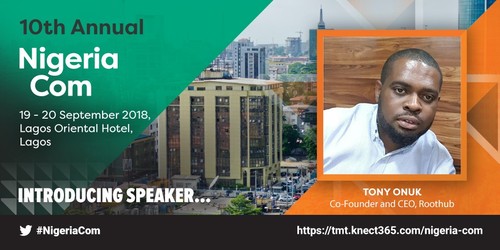 CA: What does Nigeria's startup ecosystem need to be able to thrive right now?
TO: Firstly, there's a need to ensure the abundance of broadband penetration to ensure faster access to the Internet at reduced costs, as well as in remote places to bridge the digital gap. Startups also need an enabling environment provided by the government in terms of robust policies that will aid the growth of startups and reduce or remove barriers to entry in some sectors, which would encourage competition and innovation. Strong, solid foundational structures will help these startups navigate the business world, such as business incubators and accelerators, mentor pools, funding bodies and the like.
CA: Tell us about The RootHub and how your approach enables startup success.
TO: The RootHub -- a co-working space, community center, part incubator, part accelerator -- provides a unique ecosystem of resources, inspiration and collaborative opportunities to businesses. We believe a better world evolves through the combined accomplishments of creative, committed and compassionate individuals focused on a common purpose -- growth. We are a dynamic and interactive platform that facilitates learning and entrepreneurial development, networking, mentorship and enabling people to kickstart a business faster and easier.
Our business development process leverages technology to transform and empower young people, thereby creating positive change through community-led innovation projects and initiatives. The idea behind the hub is to aggregate different offerings (funding, training and skills development, talent pool, mentorship, etc) available to the ecosystem and enable discovery by the right audience. Our approach is to provide a creative environment that allows for experimentation and collaboration amongst the startups/residents. We do not try to force the growth of entrepreneurship, we only nurture, guide and support the various activities by partnering with bodies who can provide nutrients to the ecosystem to help it grow. It is, by nature, organic and self-organizing, which we have learned over our four years of experience, and is a great factor in enabling startup growth.
CA: What can the leaders of telco operators and enterprises do to support innovation and entrepreneurship in the startup community?
TO: Telecommunications is crucial to many facets of business and life today. Take IoT, for example, a connected network of objects that communicate. Telcos have experience in operating and maintaining networks and are instrumental in operating these IoT networks as well. Innovation today is being driven largely by them, the telcos, and most startups leveraging technology in Nigeria cannot do without this important sector.
That being said, telcos can lend their support to the startup community via business support services to help startups conduct business activities… as well as providing commercial value via access to their sales channels.
CA: What is your key message at Nigeria Com this year?
TO: Join forces. Collaboration can be a means to leapfrogging the growth rate in the startup community... We can achieve more when we entrench in our mindset, processes and our culture, the ethos of growing together.

Join Tony Onuk at Nigeria Com 2018, where he will be joining our panel discussion, 'What are the essential tools for success for Nigeria's start-ups?' Learn more about the event.
— The staff, Connecting Africa