Orange Digital Ventures Invests Again in Yoco
PRESS RELEASE -- Orange Digital Ventures Africa - the Orange Group's venture capital investment fund for Africa - has made a second investment in one of the continent's most promising fintech companies, the South African Yoco.
Yoco is a leading company in mobile points of sale (mPOS) in South Africa, allowing merchants to accept card payments using a smartphone or tablet as well as manage their day-to-day activities using POS software. Since their launch in 2015, 27,000 Small and Medium-Sized Enterprises (3/4 of which had never accepted card payments before) have chosen Yoco. It has managed to create a genuine services ecosystem and intends to replicate the model in other countries in Sub-Saharan Africa. After this Series B funding round led by Partech, an internationally-renowned investment fund, and with the participation of FMO, Quona Capital and Velocity Capital, the total investment raised by Yoco to date amounts to $23 million, which makes it a textbook example for Sub-Saharan Africa. Yoco must capitalise on this investment to consolidate its position and expand its merchant network in South Africa, improve its product and conquer new markets, notably in East Africa. This investment confirms Orange Digital Ventures Africa's ambition to support the start-up ecosystem and drive innovation forward in Africa. The CEO of Orange Digital Ventures, Marc Rennard, stated: "Payment digitalisation for merchants is a major challenge in Africa where financial inclusion is developing more than ever thanks to innovative solutions. Orange is already a leader in financial services in Africa with Orange Money, and it is on the lookout for solutions that can lead to genuine revolutions in use, both amongst customers and merchants. This is the case with Yoco." In addition to payment methods, Yoco has developed a software suite and services to allow merchants to manage their business and admin activities, such as stock management, invoicing and even cash advances. With 27,000 customers, the company has experienced dramatic growth since its launch in 2015. In the medium-term it intends to be the no. 1 partner of SMEs in Africa, by providing the means to help them grow and boost their earnings.ENDS
Huawei brought its public cloud to sub-Saharan Africa, with a focus on AI capabilities. But what realistic AI opportunities are there for Africa?
Africa's largest telecom trade show, the 21st iteration of AfricaCom, opened today in Cape Town. Connecting Africa is reporting the most eye-catching stories from the show.
Mobile video users in South Africa can enjoy a good experience, better than in some advanced European countries, despite constrained download speeds, according to a report by OpenSignal.
Technological advances bringing sport closer to African fans.
A study at the University of Oldenburg has identified the success factors for digital transformation in midsize enterprises.
All resources
Safaricom Spark Fund Portfolio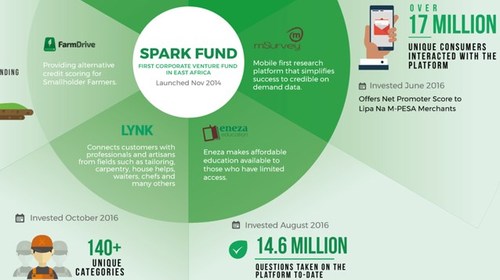 Infographics archive