Africa has made huge breakthroughs toward industry 4.0 in the last few years, with impressive tech innovations in areas such as mobile payments.
However, in a continent which still has limited digital penetration and connectivity, there are still plenty of hurdles to overcome for African nations to take full advantage of technologies such as artificial intelligence and the Internet of Things. But just as Africa has largely leapfrogged computers in favor of smartphones in the past decade, many hope the path to realizing the potential of smart technologies could have a few shortcuts.
Fintech is a particularly interesting sector here. Many highly advanced solutions around mobile payments have developed across Africa, in many cases adopted by people who were not previously customers of traditional banks.
Africa has a young and rapidly increasing population. By leveraging the potential of the wide range of emerging technologies, the continent could become a powerhouse.
Technology development is an issue that is increasingly being discussed at the highest levels of government. Fast development of future tech could have huge benefits for nationwide economies and reducing inequality. But challenges persist. Many African nations have low levels of connectivity and therefore much of the population is currently locked out of playing a role in the digital economy. Not only that, but these unconnected populations have also not had the chance to develop the digital skills which will be needed to further grow the African tech and telecoms space.
What is needed is the convergence of tech and telecoms with other industries. The financial services industry needs to embrace technology and build financial inclusion across the continent. Better networks will aid this in boosting connectivity to more of the population and therefore boosting digital inclusion. With better connectivity come more opportunities in the consumer market for services such as streaming, which are currently transforming traditional media and entertainment industries. All these industries can benefit from new technologies such as AI and the IoT if they place themselves to be able to seize the opportunities provided by such technologies.
The AfricaCom Digital Week, a virtual event taking place September 10-14, will explore five of the key technology areas that have the potential to come together to create Africa 4.0.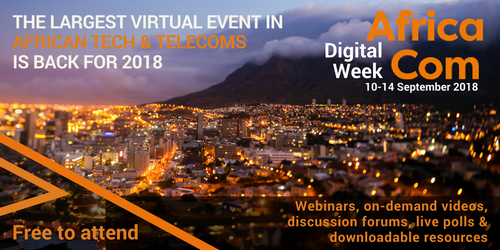 Connecting Africa & 5G
In our webinar on Connecting Africa & 5G, our experienced telecoms experts, including Bora Varliyagci, CEO of digitalthings and Jabulani Dhilwayo, founder of FibreGuide, will discuss the networks and infrastructure that is needed to bring the digital world to the whole of Africa. They will also look at 5G, the upcoming next-generation mobile technology and the particular challenges and opportunities this provides to the African continent in a discussion moderated by Ovum's Thecla Mbongue.
IoT & Smart Cities
The session on IoT & Smart Cities will look at delivering scalable digital transformation and smart city solutions in an African context. Ovum analyst Danson Njue will give an overview of IoT and Smart City progress within Africa, followed by presentations on current developments in this area from Diksha Somai Pillay, head of innovation at Exxaro Resources and Theven Naicker, head of IT at Scania Southern Africa.
African AI Opportunities
Our session on African AI Opportunities breaks down the hype surrounding AI to look at concrete use cases and practical applications for African businesses. Katie King, managing director of Zoodikers, will present on how brands are using AI and the need for customer centricity in developing this technology. Aditye Kaul and Mark Beccue from research firm Tractica will then present their recent research into the potential opportunities for AI in Africa and the conditions that are needed for success.
FinTech and the Findustrial Revolution
Our webinar on FinTech and the Findustrial Revolution will bring together a panel of leaders from across the various sectors involved in, and impacted by, Africa's burgeoning financial technology. Herman Singh, group chief digital officer, MTN; Brett Chaldecott, co-founder, Keto-Coin; Anne-Marie Chidzero, principal partner, Alitheia IDF Managers; and Kreaan Singh, partner, Blockstarters will debate how to bridge Africa's banking divide and what the continent needs to develop a successful fintech ecosystem.
The Evolution of Broadcasting and Video
Our final session will focus on gaining the upper hand in the disrupted media landscape to deliver commercially viable content and distribution models. A panel of experts from across the video and broadcasting landscape will debate these issues, including Botlenyana Mokhele, from South African regulator ICASA, Duncan Irvine, CEO of production company Rapid Blue and Mayur Patel, CEO of subscription streaming service Kwesé iflix in a discussion moderated by Ismail Patel, research analyst, Global TV Markets, Ovum.

The AfricaCom Digital Week is free to attend so register now to stay informed about the latest developments in African tech and learn more about the role your company could play in the convergence of industries towards Africa 4.0.
— The staff, Connecting Africa