East Africa's nine nations will be home to 186 million mobile broadband connections (3G, 4G or 5G) by 2022, according to market forecasts from research house Ovum Ltd.
Ovum analysts expect the growth of mobile broadband connectivity will be powered by increased deployment and upgrade of 3G and 4G/LTE networks, "as well as a rise in smartphone penetration due to better affordability," the research house noted.
The growth will be particularly noticeable in the region's three main markets of Kenya, Tanzania, and Uganda, which collectively will see an increase from about 40 million mobile broadband users in 2017 to an estimated 112 million in 2022 (of which 32 million will be 4G/LTE connections). (See infographic below).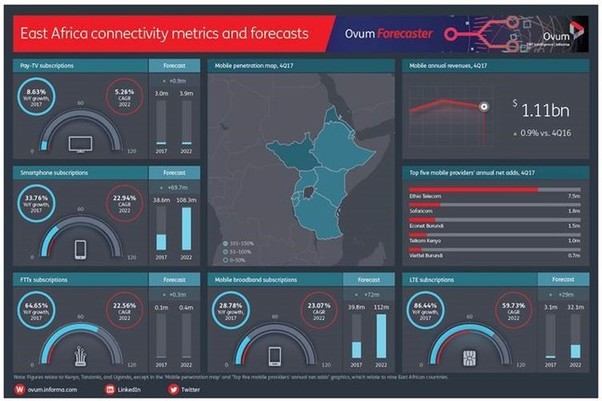 "The East African region has made great progress in broadband connectivity over the last few years, and this has unlocked great potential in digital services segment, including mobile financial services, digital media as well as enterprise services," stated Danson Njue, research analyst, Middle East and Africa, at Ovum. "However, the growth in broadband connectivity has also seen a rise in OTT services, thereby increasing chances of data revenue cannibalization for data service providers in the region," added the analyst.
The nine nations included in Ovum's East Africa research are: Burundi, Djibouti, Eritrea, Ethiopia, Kenya, Rwanda, South Sudan, Tanzania and Uganda.
— The staff, Connecting Africa