Drone technology, so often tainted by association with warfare and controversy, is starting to have a beneficial impact on the lives of Africans.
In the first part of this two-part report, we looked at how Zipline is using drones to deliver vital blood supplies to health clinics. (See Drones For Good in Africa: Part 1.)
In this concluding part of the report, we look at how Unmanned Aerial Vehicles (UAVs), aka drones, are being used to good effect in the healthcare and farming sectors by UNICEF and analytics specialist Aerobotics.
UAVs tackle HIV
The Rwandan and Tanzanian governments are not the only ones taking drones seriously when it comes to development in the healthcare space. The Malawian government has been working with UNICEF since 2016, testing the use of drones to explore cost-effective ways of reducing waiting times for HIV testing of infants.
Malawi is at the centre of the HIV epidemic, with nearly 40,000 children born to HIV-positive mothers each year. The quality care of these children depends on early diagnosis, which requires taking dried blood samples from health centers to the central laboratory for analysis, an expensive and time consuming task.
In the same way as Zipline is delivering blood with drones, UNICEF is transporting these samples to speed up waiting times and improve diagnosis.
"The test corridor is the world's largest test area -- with over 5,000 square kilometers and allowing operations up to 400 meters above ground level -- [and] is specifically dedicated to the humanitarian and development uses for drones," said UNICEF innovations consultant Michael Scheibenreif.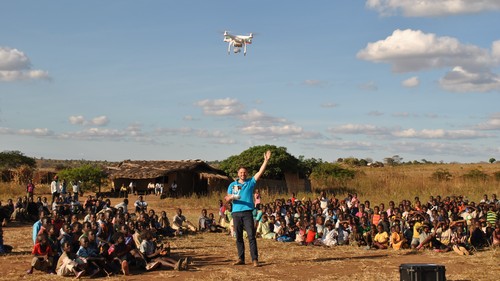 This is just the beginning, however. UNICEF, like Zipline and other drone companies across the world, believes the usage of such drone corridors can be extended to all sorts of other areas.
It is already integrating drones into the national disaster risk preparedness and response framework. Malawi experiences floods every year, which are often catastrophic: In 2015 more than 200,000 people were displaced. These floods usually occur in the same areas.
UNICEF is testing the use of drones to speed up the emergency response in such situations. In February of last year, floods occurred in Salima District. Following a request by the government, UNICEF deployed drones to assess the flooded areas. In April, flooding came to Karonga District, where UNICEF again conducted an assessment by drone. The information obtained was crucial, given impassable roads and collapsed bridges.
Scheibenreif believes drones have huge potential to support the lives of people in remote areas that lack developed transportation networks, and says UNICEF's goal is to discover other ways drones can assist in development.
"The corridor is designed to provide a controlled platform for the private sector, universities, and other partners to explore how drones can be used in scenarios that will benefit marginalised communities," he said. "All data generated by the flights will be used to inform the Government of Malawi's plans for the use of drones in multiple scenarios."
Farming drones
UNICEF is also working on the use of drones to collect information to develop artificial intelligence (AI) algorithms that can detect changes in vegetation in order to prepare for floods or droughts. Cape Town-based company Aerobotics is already active in that space.
Launched in 2014, Aerobotics' data analytics platform Aeroview uses satellites, drones and AI to help African farmers optimise the performance of their crops and reduce input costs.
Information collected by UAV allows farmers to track crop health, growth and moisture levels down to individual plants, and plan their activity accordingly.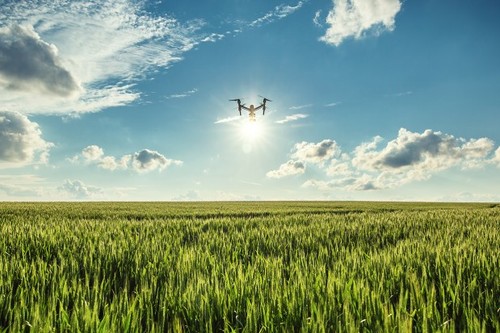 Andrew Burdock, chief operating officer (COO) of Aerobotics, said the way the company was using drone data in the tree crop industry was unique.
"We have developed innovative techniques to detect early stage problems for individual trees. The agricultural industry is extremely diverse and the businesses entering this space are differentiating on crop specialization and developing game changing technology for specific crop types," he said.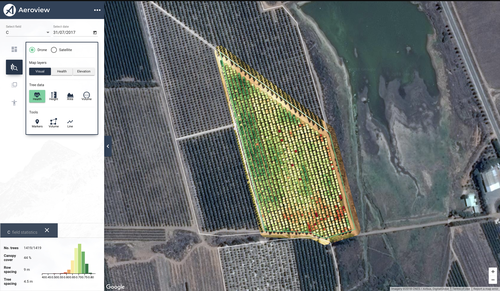 The solution is proving extremely scalable, and Aerobotics already has clients across 11 countries. There are two major value propositions of drone technology for tree crop farmers.
"Firstly, reducing costs through focusing on problem areas in a farm and reducing wastage of inputs such as time, water and fertiliser," Burdock said.
Secondly, "farmers are seeing increases in yields, as we are highlighting early stage problem trees and areas within an orchard and allowing a farmer to put corrective action in place before it is too late, essentially getting maximum yield from each orchard."
Zipline, UNICEF and Aerobotics are not the only organizations across Africa using drones to make a difference: In Sudan, Massive Dynamics has developed a drone that plants seeds itself; the Nigerian Natural History Museum is using UAVs for archeological work; while UAV & Drone Solutions (UDS) has been using drones to prevent poaching in South African national parks.
Whatever the purpose, and wherever they are used, drones are rapidly gaining a reputation as agents of positive change on the African continent, rather than just agents of death and controversy.
— Tom Jackson, co-founder of Disrupt Africa, special to Connecting Africa