KT (Korea Telecom) is seeking further ICT partners across Africa following its involvement in helping to build a wholesale national 4G LTE network in Rwanda, called KT Rwanda Networks (KTRN), in collaboration with that country's government.
KT representatives attended the recent Korea-Africa Economic Cooperation Association (KOAFEC) and the Africa Development Bank (AfDB) Annual Meeting at BEXCO, held in the Korean city of Busan, to highlight the importance to African economies of investing in information technology and communications capabilities. (See South Korea President Looks to Bring Tech Smarts to Africa.)
Kim Hyung-joon, managing director of the KT Global Business Division, stated: "At this KOAFEC and AfDB Annual Meeting in Busan, we shared our views on public-private partnership projects with key personnel from African countries through cooperation with the Korea Export-Import Bank. I will actively support African countries to promote ICT-based economic development based on their experience."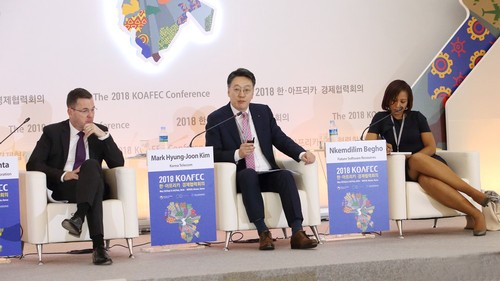 Not everyone thinks the Rwandan 4G network has been a success, however, as the GSM Association (GSMA) has cited it as one example of how wholesale mobile networks do not deliver on their potential. (See Wholesale Open Access Mobile Networks Don't Work – GSMA.
— The staff, Connecting Africa