Nigerian integrated telecoms services provider Globacom is to invest in a Significant submarine optical transport link that will provide much needed, high-bandwidth connectivity for the country.
The plans for the Glo 2 connection were unveiled recently the executives from Globacom and from the lead technology partner for the project, Huawei Technologies.
Sanjib Roy, Globacom's Regional Director, Technical, noted that the submarine cable will run along the Nigerian coast from Alpha Beach in Lagos, where the Glo 1 landing station is located, to the Southern part of Nigeria, which is where much of the country's oil production industry is based. The cable will enable oil platforms, as well as production facilities and communities, to receive very high-speed connections that will boost digital activity.
"Glo2 will be the first submarine cable in Nigeria to land outside Lagos, as the five existing submarine cables only landed in Lagos," stated Roy. "Glo 2 will have capacity of 12 Tbit/s and will provide ultra-high speed connection to oil platforms and communities to empower data coverage and support enterprise market growth in this part of Nigeria," he explained.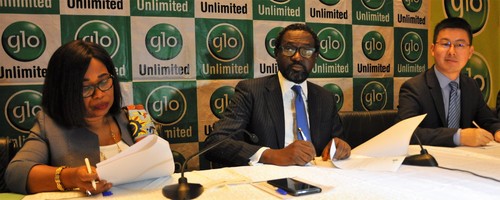 The cable will be about 850 kilometers long and be interconnected with Globacom's terrestrial data network. It will be built with a view to extending the cable further south to Cameroon, Equatorial Guinea, Gabon, Angola and other countries.
The cable will comprise three fiber pair: The first pair will connect Lagos directly to southern Nigeria, with terrestrial extension to other parts of the country for redundancy and maintenance purposes; the second will be equipped with eight switchable Branching Units (BUs) that will deliver high capacity to offshore oil stations and communities; and the third pair will be equipped with two switchable BUs to deliver high capacity to Cameroon and Equatorial Guinea.
— The staff, Connecting Africa