PRESS RELEASE -- NAIROBI, Kenya -- As women, we're no strangers to the stereotypes that surround our often more detailed approach to getting tasks done. Too pedantic. Too fussy. We've heard them all.
But the truth is there's nothing wrong with wanting to get things right. In fact, across industries companies are starting to wake up to the unique value which women bring to the workplace.
ICT, in particular, is an industry where fastidiousness is an invaluable asset.
Yet, while in many ways women are a perfect fit for the ICT profession, technology and engineering are fields which remain dominated by men. According to the World Economic Forum (WEF) Global Gender Gap Report, women are still strongly under-represented in engineering and ICT.
We know that in Africa specifically the challenge in growing these skills starts much earlier, with more boys than girls enrolled in primary school in at least one third of African countries according to UNESCO. In fact, in sub-Saharan Africa, girls who do go to school can typically expect as little as five years of education.
This is a tragedy - not only because our failure to properly educate young girls is directly contributing to high unemployment rates among women - but also because our continent is missing out on the brilliant young female minds who are needed to take Africa forward into the digital economy.
Bridging the divide
This a major part of the reason why Samsung has thrown its weight behind initiatives like its Female Professional Electronics Body in Ghana. In partnering with organisations like GIZ and KIOCA, we hope to upskill women in technical and electronic skills so that they can more effectively compete with their male counterparts.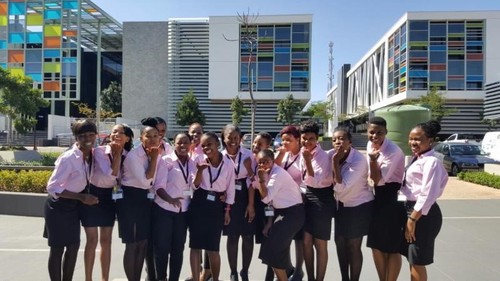 And beyond our educational goals for a programme like this, is our hope to start changing perceptions around women in ICT and engineering. As players in the ICT space, it's our responsibility to help break down the barriers which preclude young women from embarking on careers in electronics. Young women like Kate Amarh who spent two months at Samsung's Female Academy Project learning about our various products.
ENDS