With e-Health rapidly proving its potential to improve workplace efficiencies, increase patient safety, better co-ordinate care, facilitate payments and engage patients, this year's AfricaCom event is turning the spotlight on the rise of digital health and attendant technologies with a brand new dedicated conference track.
"We have included several new tracks on the conference agenda this year, with e-Health a prominent addition," states Tom Cuthell, the Portfolio Director at KNect365 who oversees the event. "With more people finally having access to the immediacy and the information that the Internet brings, personal health management is becoming achievable and is set to be one of the fastest growing industry sectors over the next few years," he adds.
"This presents incredible opportunities for the entire health and wellness ecosystem and we look forward to hosting healthy and robust discussions on these topics and many others at this year's event," added the AfricaCom man, who is set to deliver the welcoming address to the event's attendees on the morning of Tuesday November 7.
Topics on the e-Health agenda at AfricaCom's Innovation Stage include a look at the current digital health landscape and the opportunities that are available and what needs to be done to address the challenges of implementing these new ideas.
Also new this year is a dedicated track focused on fintech. "Digital disruption equals digital democracy and nowhere will this be more keenly felt than in the ability for all levels of society to engage in the monetary exchange and rewards that fintech can provide," notes Cuthell. "For this reason, we have developed a detailed stream of content to appeal to all players in the financial value chain -- from developers, payment partners, retailers and end users. It is a must for any business looking to transact online," he adds.
Also on the agenda at AfricaCom are a host of discussions and debates, such as a look into future mobile payments trends, the uptake of wearables, near-field-communications (NFC) and M-Pos that are driving the global mobile payment market.
For more details, check out the Mobile Finance & Commerce track at the show.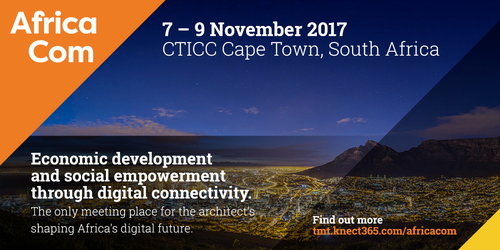 For more on AfricaCom, see:
— The staff, Connecting Africa